Destiny 2's Season Of The Forge Starts Today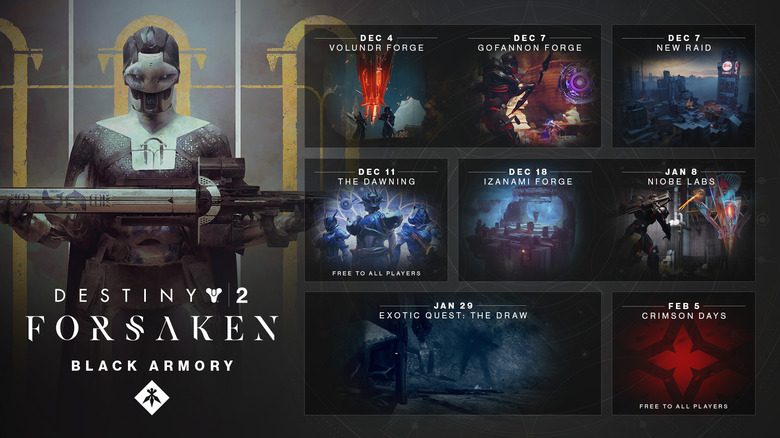 It's been nearly three months since Destiny 2: Forsaken launched and Destiny 2 players got their first look at a much-improved game. Now Bungie is launching a whole new season of content to keep everyone busy through the holidays. It's called The Season of the Forge, and it starts today.
The Season of the Forge brings new weapons, armor pieces, and cosmetic loot to the Destiny 2 experience, along with two completely free events in December's "Dawning" and February's "Crimson Days." It's important to note, however, that there will still be a fair amount of content locked behind Destiny 2: Forsaken's Annual Pass. The Black Armory expansion, which is set to arrive next week on Dec. 4, will include a host of new activities that require paid access, such as a new exotic weapon quest called The Draw and a new raid called Scourge of the Past.
But there looks to be plenty of new loot for all players to grind for, regardless of whether or not they've purchased Forsaken's Annual Pass. We took a quick jaunt around the tower and found some new Vanguard duds on Commander Zavala, as well as some interesting Crucible goods on Lord Shaxx. Both of those characters, as well as the Drifter, will have what are called "Pinnacle" weapons that players must complete a lengthy quest to obtain.
And Tess Everis, ever the hustling entrepreneur, has a whole store full of brand new merchandise. A peek inside the Eververse revealed new emotes, ships, sparrows, ghost shells, and ornaments.
Undoubtedly, though, players who've plunked down the cash for the Annual Pass will be looking forward to Black Armory. Bungie posted a ViDoc today that detailed some of what players can expect from the Annual Pass going forward, and gave away some secrets about the Scourge of the Past Raid. It apparently takes place in the Last City, which is the settlement located just below the game's main social area. And players shouldn't expect the Last City to be a destination itself — but whatever story happens to be present in Black Armory will eventually lead them there for the raid, which launches on Dec. 7.
Bungie has opted out of its typical stream-that-tells-you-everything format for Black Armory, instead leaving players a bit in the dark about what to expect. That might just a way to keep expectations from getting too out of hand, as has happened with past DLCs. Or it could be a way to play up the mystery surrounding the Black Armory itself. Whatever the case, we're ready to jump in next week.