Fortnite V6.31 Patch Is Out Now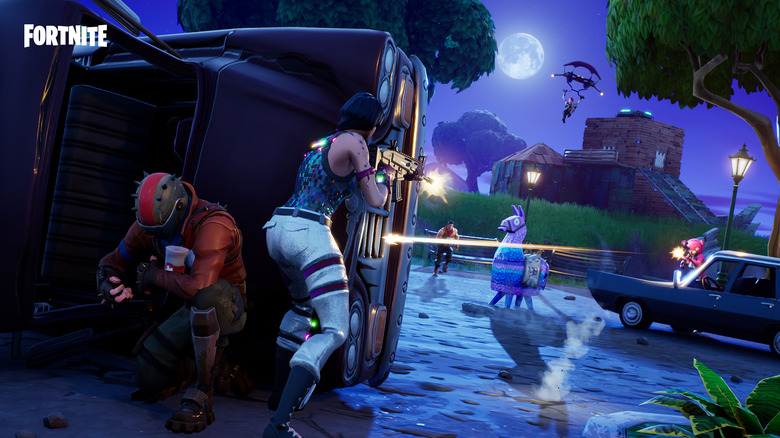 Another patch, another new game mode. The latest update for Fortnite — v6.31 — is now available to download, and brings a variety of changes to the game, including a few new weapons and a brand new mode called "Team Rumble."
First, the weapons. A lot of Fortnite players swear by the Pump Shotgun. It's easy to find and easy to use. The main rub with the gun, though, was that there weren't higher-tier versions of it. That is no longer a problem, thanks to the v6.31 update. The Pump Shotgun now comes in Epic and Legendary flavors, allowing you to keep using your favorite shotgun without sacrificing damage. Sure, you won't be able to trip over one like you could a rare Pump, but at least now it's getting the respect it deserves.
Now for Team Rumble. Have you played any other shooting game in existence? Say, a Call of Duty or a Halo? Epic Games describes Team Rumble as though it's a novel new thing, and it certainly is for Fortnite: Battle Royale. But those who've stepped into multiplayer in a shooting game before will get the gist of it pretty quickly.
Team Rumble is basically Fortnite's version of Team Deathmatch.
In Team Rumble, teams are comprised of 20 players each. After being killed, players respawn after 5 seconds. The weapons on the map are Uncommon or higher. And the first team to reach 100 kills takes home the win. It's really not all that different from what you've come to expect in most first- and third-person shooting games, and actually, it's quite similar to the "Big Team Battle" modes found in Halo specifically.
It does mark an interesting turn for Fortnite: Battle Royale, though, as a Team Deathmatch mode flies in the face of what made Fortnite different. Epic Games is essentially working backward to introduce a mode that other games have had for decades, while other properties (like Call of Duty and Battlefield) are trying to break into the battle royale space.
There's no word on how long Team Rumble will be around, though Epic was careful to note in its patch notes that the mode is "Limited Time." With Season 6 winding down, the end of the season could serve as a good cut-off point for the mode, though Epic may have a patch or two coming before that date.
We'll keep you up to speed should we learn more.