Guacamelee 2! Is Coming To Nintendo Switch And Xbox One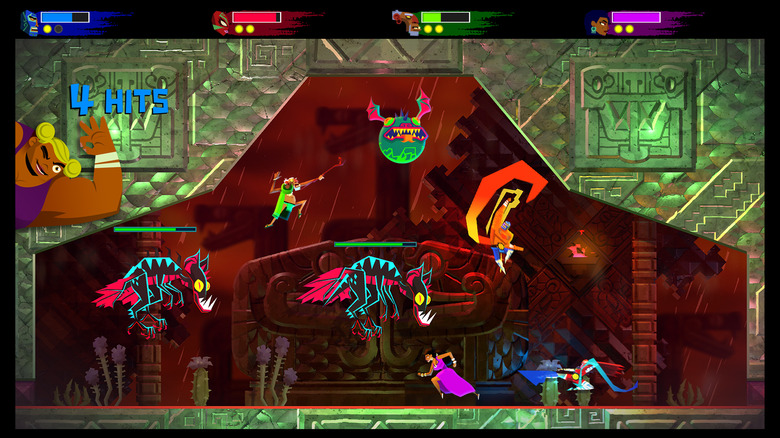 Fans of the Guacamelee! series will soon have more systems on which to play the latest release, Guacamelee! 2. According to IGN, Drinkbox Studios has announced that both the Nintendo Switch and Xbox One will get releases of Guacamelee! 2 within the next few months.
Advertisement
The Nintendo Switch port of the game is set to arrive first on Dec. 10. And, as part of a special being run in the Nintendo eShop, anyone who pre-orders Guacamelee! 2 digitally can take advantage of a 10% discount.
The Xbox One version of Guacamelee! 2 isn't as nailed down. Drinkbox Studios has stated that Xbox One owners can expect to see the game sometime in January 2019, but did not have a firm release date to offer up.
It's also worth noting that Guacamelee! 2 recently got some DLC, titled "Tree Enimigos." That DLC will be available for Nintendo Switch and Xbox One owners as soon as the game hits those platforms.
The arrival of Guacamelee! 2 is great news for those who enjoy tough platformers — especially those on the Xbox One. While the Guacamelee! series has traditionally launched first on PlayStation platforms, Xbox One owners got to experience the first Guacamelee! as a Games with Gold title in July 2014. That garnered Drinkbox Studios some fans on the system, and those fans were understandably bummed out when Guacamelee! 2 was announced as a PlayStation exclusive.
Advertisement
Guacamelee! 2 also fits the use case of the Nintendo Switch really well, too. It's not a graphically intense game, being a side-scrolling platformer, and its vibrant, cartoony style means that it can look good regardless of what display the game is on. That means Guacamelee! 2 will be just as beautiful on the Switch's tiny display as it will docked on a larger television.
Don't worry, PlayStation 4 players — you still have something to look forward to. A second DLC for Guacamelee! 2, called "Proving Grounds," will hit the PlayStation Store on Dec. 7. There's no word yet on when that DLC will make its way to the later Nintendo Switch and Xbox One ports of the game.