Red Dead Online Now Open To All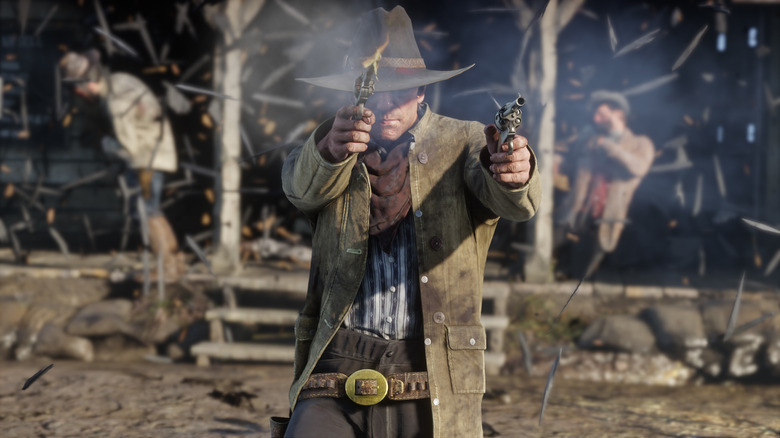 Rockstar has officially made it less complicated to get into its latest online mode, Red Dead Online. If you own Red Dead Redemption 2 and want to live out all of your cowboy fantasies in a multiplayer setting, Red Dead Online is now available for you to play, regardless of when you bought the game.
For the uninitiated, Red Dead Online is an open-world sandbox game that takes place in the universe of Red Dead Redemption 2. You can play solo, or you can group up with a "posse" to search for treasure, battle rival gangs, or simply wreak havoc in whatever city you happen to land in. And there are story missions! If you've wrapped up Red Dead 2's lengthy campaign and are itching for a bit more narrative, you can tackle those by yourself or in a co-op setting.
If you plan to jump in, there are a few things you'll need to know. First off, you'll be creating a custom character. There's no Arthur or John to be had here. Your Red Dead Online persona is uniquely you. You'll enter a character creation screen and be asked to craft a whole new being.
Next, there's actually some fast travel in this mode! Fast travel in the Red Dead 2 campaign was pretty limited, with the game only allowing you to travel via Arthur's map or a train station. But in Red Dead Online, you can scoot to a new location simply by interacting with a sign post.
Finally, you no longer have to walk into a shop and manually look at a catalog to buy things, because apparently, Red Dead Online offers a bunch of streamlined features that should have been in Red Dead Redemption 2's campaign. To pull up a catalog and buy things like weapons and ammo, all you have to do is press down and hold left on your d-pad.
There's a whole lot to explore in Red Dead Online, and a whole lot of glitches currently affecting the game. We'll undoubtedly be talking more about the mode as more players sink their teeth into it. Stay tuned.