Hellblade: Senua's Sacrifice Now Available At Retail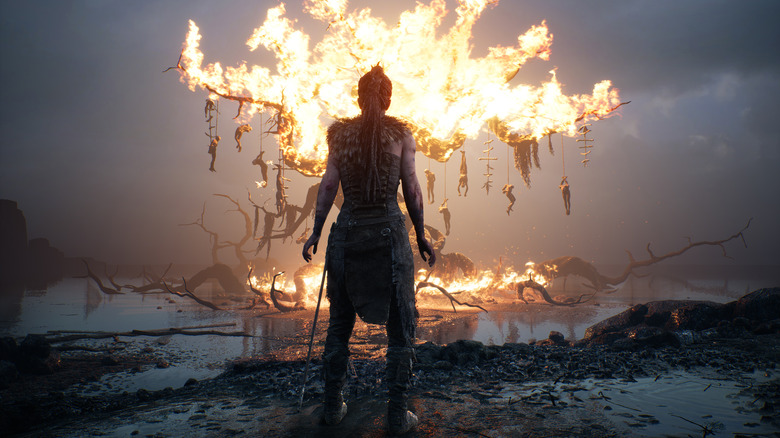 If you missed out on the phenomenal Hellblade: Senua's Sacrifice, there's no better time to check it out than right now. Microsoft announced today that the game is officially available on disc in retail stores, giving whose who prefer physical games a chance to explore Ninja Theory's brutal Norse hellscape.
Advertisement
According to Microsoft, Hellblade was "the winner of five 2018 BAFTA Games Awards, including Best British Game, Best Artistic Achievement, Best Game Beyond Entertainment, Best Performer and Best Audio Achievement." The game also picked up three trophies at the 2017 Game Awards for "Best Audio Design, Best Performance, and Best Game for Impact."
Microsoft's news update only mentions the game being released physically on Xbox One, but rest assured, Hellblade is also available as a disc package on PlayStation 4, as well. The game actually launched first on Windows and PlayStation 4 in August 2017, and later made its way to Xbox One in April 2018. As it happens, Microsoft now owns the studio, announcing its acquisition of Ninja Theory at E3 2018.
Advertisement
Future Ninja Theory games may not necessarily be multi-platform in the future, but Hellblade is, regardless of whether your joysticks are offset or not.
As you can probably guess by all the awards it won, Hellblade: Senua's Sacrifice was incredibly well received by critics. IGN called the game "a masterclass of atmosphere, storytelling, and the marriage of mechanical and conceptual design." And Polygon praised Hellblade as "both a psychological terror and an enlightening experience." It's definitely a dark game, so be prepared for that. And you'll absolutely want to play through it with headphones to truly appreciate Ninja Theory's audio design.
But if you're an Xbox One owner, you'll mostly want to check out Hellblade to get a sense of what's to come. Ninja Theory is an very talented studio, and there are likely many great games in its future.
Hellblade: Senua's Sacrifice is available in stores now for $29.99.