Fortnite Creative Is Coming Very Soon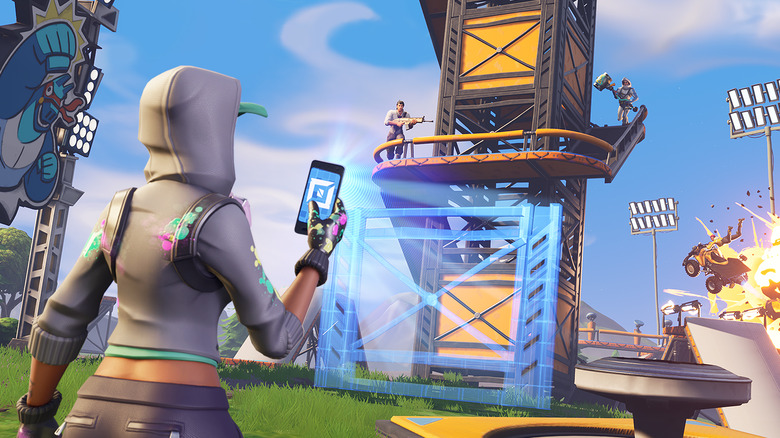 Look out, Minecraft. Epic Games is bringing a new mode to Fortnite that encourages less battle royale and more building. It's called Fortnite Creative, and it's scheduled to drop very, very soon.
So what is Fortnite Creative, exactly? According to Epic Games, "It's a brand new way to experience the world of Fortnite, available on December 6. Design games, race around the island, battle your friends in new ways and build your dream Fortnite."
Advertisement
So it sounds a lot like Fortnite's prior Playground mode, but expanded and given a more Minecraft-esque sandbox.
In an effort to promote Fortnite Creative prior to its release, Epic Games worked with a long list of YouTube creators, who visited Epic's headquarters in order to test out the new mode. And in those videos — like this one — you can get a sense of how Fortnite Creative operates. It essentially looks like the kind of map builder you'd find in something like Halo, though Epic notes in its news update that you can "design games," which seems to hint at some scripting functionality. We'll have to see what Fortnite Creative looks like when it actually comes out to know for sure.
When does it come out? That's a bit tricky. For all users, regardless of whether you pay anything or not, Fortnite Creative will be available on Thursday, Dec. 13. However, those who purchase Fortnite: Battle Royale's Season 7 Battle Pass will get some early access. That starts tomorrow.
Advertisement
Epic is talking about Fortnite Creative as though it's a pretty big deal, which means this might not wind up being a little spin-off from the main game. Rather, Creative could become a main pillar of the franchise, along with Battle Royale and Save the World. Epic promises "many new features and improvements over the next few updates," so those who dive in early can look forward to seeing Fortnite Creative grow over time.
We'll have more for you on Fortnite Creative once we get our hands on it.