When Adin Ross Got Honest About His Addictions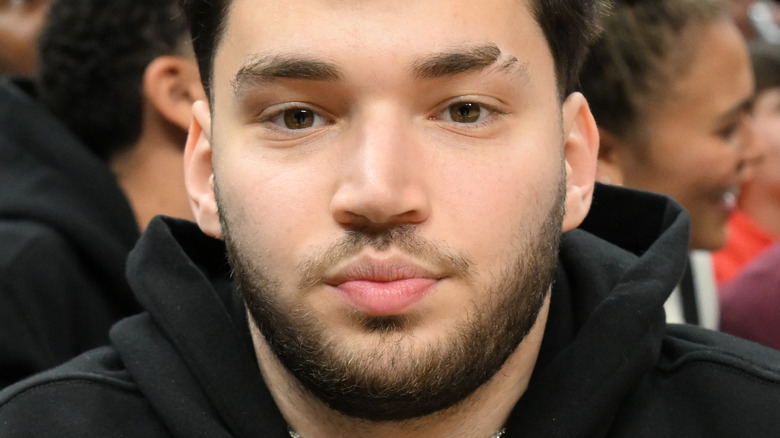 Paras Griffin/Getty Images
The following article includes mentions of drug and alcohol addiction.
From Twitch to Kick, Adin Ross is a streamer who has made an inarguably large impact on the industry. A controversial figure to be sure, he's made a name for himself through his willingness to cross the line in the name of views and entertainment. However, it's not all fun and games in the world of Adin Ross, as he's also seen his fair share of tragedy. Over the years, Adin Ross has turned to a number of illicit substances, and he's not always been too proud of it.
Advertisement
However, Ross is nothing if not forthcoming with his viewers. Adin Ross has spoken about his struggles with substance abuse and addiction on a few different occasions. As longtime viewers are no doubt aware, Ross has fought addictions to opioids, alcohol, marijuana, and even lean over the last few years. For those unaware, "lean" is a slang term for a concoction of prescription strength cough syrup and various soda pops, often combined with candy, which can be extremely dangerous when consumed in large amounts. These various vices have created roadblocks for the content creator over time, to the point where he's outright warned his subscribers to stay clear of some of his own recreational habits. Here are some of the times when Adin Ross has gotten real about his various addictions.
Advertisement
Adin Ross announces he's done with marijuana
Before his issues with opioids and lean, Adin Ross attempted to rid himself of a much less sinister habit. Back in 2019, Ross swore to his followers on Twitter that he was planning to clean up his act, beginning with ending marijuana use completely. He noted that marijuana on its own is not a dangerous substance, saying, "[you] can find yourself from using it." However, he expressed at the time that he was overusing the drug, and felt that a fresh start was in order. 
Advertisement
I am choosing to completely stop smoking weed. Weed isn't bad for u, u can find yourself from using it, music and food taste better. But it's far from the time to rest, I have so much more work to do before I can relax. Today marks my first day clean... sober adin

— adin (@adinross) August 21, 2019
While it is true that marijuana is not the addictive drug that many agencies make it out to be, excessive use of any substance is bound to cause issues. In Adin Ross' case, he felt like marijuana held him back from his day-to-day hustle. He explained to the "Full Send Podcast" in 2023, "You could smoke weed if you can, you know, be very, you know, productive — but I can't ... I'm a lazy person as it is, so I have to get out of my comfort and go crazy."
Advertisement
For a while, Ross made a good effort to stick to his plan to end drug use. On top of quitting marijuana, even gave up drinking entirely. However, it seems he was unable to keep to his plan. In the years that followed, Adin Ross began drinking again and taking recreational drugs, which he believes to have had an adverse effect on his performance as streamer, not to mention his physical and mental health.
Adin Ross gets real about opioids and lean
2023 didn't get off to the best start for Ross, who admitted to fans in January that he'd broken his sobriety by drinking alcohol. In April 2023, Adin Ross shocked fans further when he posted a video to his YouTube channel discussing his addictions in a clear and frank manner. "I was on a binge, drinking lean ... I was addicted to that and I fell off my journey a little bit and I started doing things," Ross explained. "Arrogance started coming out of me and I became a version of myself I wasn't familiar with and people around me weren't." According to Ross, things only got worse when he tried to quit and get the chemicals out of his system. He became feverish and experienced severe stomach issues, but the physical problems were far from the worst part of it. "[I] just became a really, really bad person," Ross confessed.
Advertisement
Ross revealed that he'd been working extremely hard to combat his addictions, and he was aware of his detractors discussing his struggles on the internet. However, he thanked his fans on YouTube for their continued support. He promised his fans that he would be getting back into shape, tossing out the sweets that he craved while on opioids and getting back into the gym. Since then, Ross has continued to talk about his journey through his YouTube channel and his streams, letting fans in on each milestone and setback. 
Adin Ross relapses on lean
Adin Ross has continued to keep fans updated on the highs and lows of his sobriety, and that includes when he hits a setback. In another apology video posted to YouTube on Sept. 1, 2023, he revealed that he'd fallen off the wagon during a bout with COVID-19. While he was under the weather, Ross said, "I picked up a pint, straight up, and I poured up, and I shouldn't have done that. And I did that back-to-back days."
Advertisement
During this stream, he also got into a brief spat with fellow streamer Cheesur, who allegedly sold him the drugs he took during this relapse. Not to be deterred, Ross announced his plans to once again go through a personal detox, cutting out drugs, alcohol, and even junk food. He also promised to always be up-front with his subscribers: "I'm gonna tell you every time I fall, bro. I'm gonna tell you guys, because you guys are there to bring me up." At the time, Adin Ross promised that fans would see a complete transformation from him in the coming months. Judging from the outpouring of support on social media, those fans continue to root for him.
If you or anyone you know needs help with addiction issues, help is available. Visit the Substance Abuse and Mental Health Services Administration website or contact SAMHSA's National Helpline at 1-800-662-HELP (4357).
Advertisement