Monster Hunter: World Is Getting An Expansion Next Year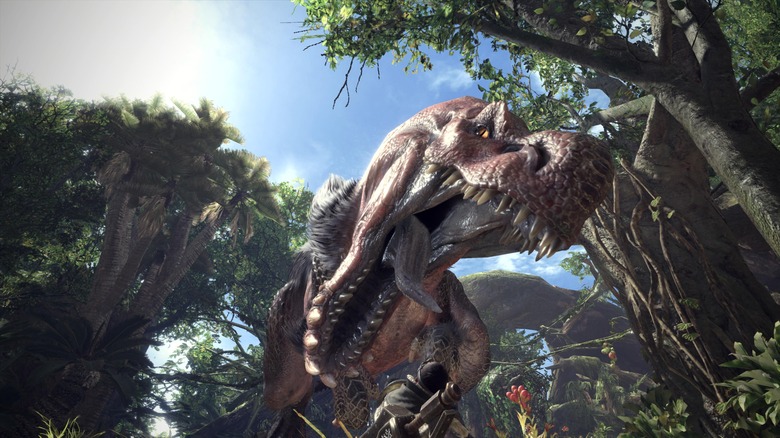 Winter is coming in Monster Hunter: World, but not until next year. The official Monster Hunter Twitter account announced a new expansion for the game today, sharing a video for Monster Hunter: World — Iceborne, which is set to arrive in Fall 2019.
Advertisement
Unfortunately, those looking for specific details on the expansion won't find much in the video. A pack of hunters can be seen trying to tail a Rathalos, which flies away (as one tends to do). Instead of simply relocating to another area of the map, though, this Rathalos makes its way out over the open sea and flies toward what looks to be a more chilly land.
The Monster Hunter: World logo shows up with the word Iceborne underneath, and Capcom hits us with some captions: "New quest rank, monsters, locales, moves, and equipment!" And there you have it.
The studio is calling Iceborne a "massive expansion," so it seems that regardless of what's being added come fall next year, there's going to be a lot of it.
Advertisement
Monster Hunter: World has been a real achievement for Capcom in terms of increasing the popularity of the Monster Hunter series in the West. After the PC version of the game released back in August, sales of Monster Hunter: World passed 10 million units, making it Capcom's best-selling game ever.
And the game's been well-received critically, too. Monster Hunter: World was up for Game of the Year, Best Role-Playing Game, and Best Multiplayer Game at the Game Awards, leaving with a statue for Best RPG. That's pretty good for a category that also contained Dragon Quest XI, Ni no Kuni II: Revenant Kingdom, Octopath Traveler, and Pillars of Eternity II: Deadfire.
Those hoping for some new Monster Hunter content in the near future aren't totally out of luck. The Witcher 3's Geralt will join World as a playable character early next year, and will bring some Witcher-inspired quests along with him.
We'll have more on Monster Hunter: World's Iceborne expansion as new details emerge.