Epic Wants To Help Devs Make Cross-Platform Games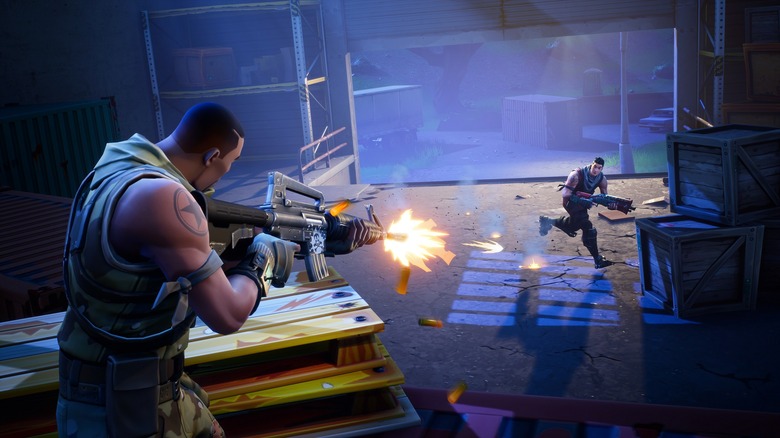 Fortnite developer Epic Games has been one of the driving forces behind cross-platform play. Now the company is looking to use its expertise to help other developers, announcing tools that will help game studios add cross-plat login, friends lists, profiles, and more.
Advertisement
"Successfully launching and operating a live, online game requires a suite of services that go far beyond the functionality of a traditional game engine," Epic says in a blog post. "Throughout 2019, we'll be launching a large set of cross-platform game services originally built for Fortnite, and battle-tested with 200,000,000 players across seven platforms."
According to Epic, the services "will be free for all developers, and will be open to all engines, all platforms, and all stores."
So what exactly is Epic making available to other devs? To start, the company already has a proven solution for universal logins with its Epic account system. Players on any platform can create an Epic account and tie their payment information to it. Those who have an Epic account also have a universal friends list tied to it, and Epic plans to make the backend friends list functionality available, as well. You can probably understand how a cross-platform profile would work from there.
Advertisement
Epic also has its eyes on giving developers access to its cross-platform voice communication tools, and this one has us genuinely intrigued. Epic has its own voice solution built into the PC version of the game. But most console platforms, with the exception of the Nintendo Switch, use their own online multiplayer services as the backbone for voice chat. Would Epic's tools bypass those voice chat channels, or are the tools meant for PC and Switch devs? Give us some answers, Epic!
Finally, Epic also plans to make tools available to help devs with on-screen overlays, cross-platform parties, cross-platform matchmaking, cloud storage, and achievements/trophies. That last one leads us to believe that Epic is going to go ahead and make Fortnite's console services available to anyone who wants them, and for smaller indie developers, that could be a huge boon.
Most of Epic's services will launch in Q2 and Q3 of 2019. Cross-platform parties and matchmaking tools will come in either Q3 or Q4.