Mortal Kombat Boss' Horror Movie Post Lines Up With Leaks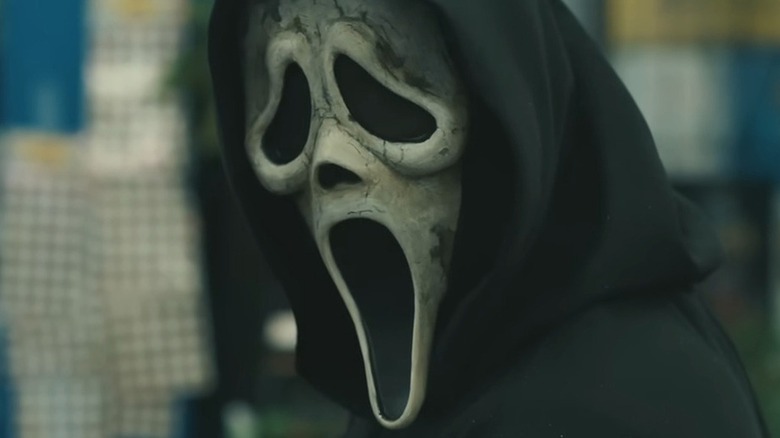 Paramount Pictures
The "Mortal Kombat" franchise has a pretty solid track record of bringing in iconic horror movie characters as DLC fighters, and "Mortal Kombat 1" may soon be following suit. That's at least what a number of fans think series co-creator Ed Boon is hinting with a new post on X (formerly Twitter). As creative director for the franchise, Boon no doubt has a pretty good idea of what downloadable content is currently in the works, even if it's down the road, which is why fans were intrigued to see him post a fan art image of multiple slasher villains.
Advertisement
— Ed Boon (@noobde) September 28, 2023
As you can see, a few of these bad guys — Jason Voorhees from "Friday the 13th," Freddy Krueger from "A Nightmare on Elm Street," and Leatherface from "Texas Chainsaw Massacre" — have checkmarks over them, signifying their previous appearances in "Mortal Kombat" games. The other slashers in the image, however, are the ones that seem to be drawing the most attention from "Mortal Kombat" fans. Michael Myers from "Halloween," Ghostface from "Scream," Chucky from "Child's Play," Billy the Puppet from "Saw," and Pinhead from "Hellraiser" all have question marks superimposed over their faces. Boon's post has quickly blown up on X, with some fans taking this as a hint of fighters to come, while others believe Boon is essentially confirming some recent "MK1" leaks.
Advertisement
Fans are positive Ghostface is on the way to Mortal Kombat 1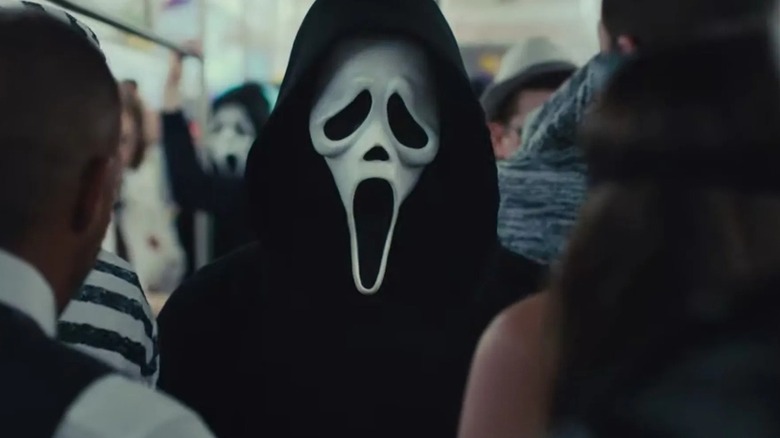 Paramount Pictures
The replies to Boon's post have been flooded by commenters calling out which horror icons they'd love to see join "Mortal Kombat 1" in future expansions. Though some fans are a little skeptical of how Chucky would be a viable character, most are excited by the idea of any of these slasher villains entering the tournament. Some fans are already thinking about the lore implications of these crossovers, with one fan remarking, "Pinhead and the Hellraiser universe are a perfect fit for Mortal Kombat." Others are throwing out their own suggestions, like Buffy the Vampire Slayer or Ash Williams from "The Evil Dead." Some fans have suggested that NetherRealm should instead make a standalone horror fighting game, separate from the "Mortal Kombat" series.
Advertisement
Outside of fans' horror DLC wishlists, the biggest topic of conversation following Ed Boon's post has revolved around recent "MK1" leaks. A few weeks back, dataminers rooting around in "Mortal Kombat 1" discovered voice lines hinting at several unannounced DLC characters, including Ghostface. 
=== MK1 Datamine Tweet === DLC ===

After digging more with the intros, there is evidence for the following characters:
- Noob Saibot
- Cyrax (Robot)
- Kotal / He-Man / Conan
- Ghostface
- Unknown Girl
- Jade
- Cassie Cage
- Kung Jin

Need time to collect everything and theorize...

— thethiny 🐰 (@thethiny) September 18, 2023
Boon's horror movie post has fans more confident than ever that the "Scream" killer is on his way in a future update. It would certainly be a fun way for WB Games and Paramount Pictures to capitalize on the excitement for the upcoming "Scream 7." Also, Ed Boon can usually be relied on to have some fun with fans before a big content announcement, so it's not out of the realm of possibilities. Then again, maybe he's just excited for October to begin?
Advertisement