Fallout 76's Canvas Bags Won't Ship For A While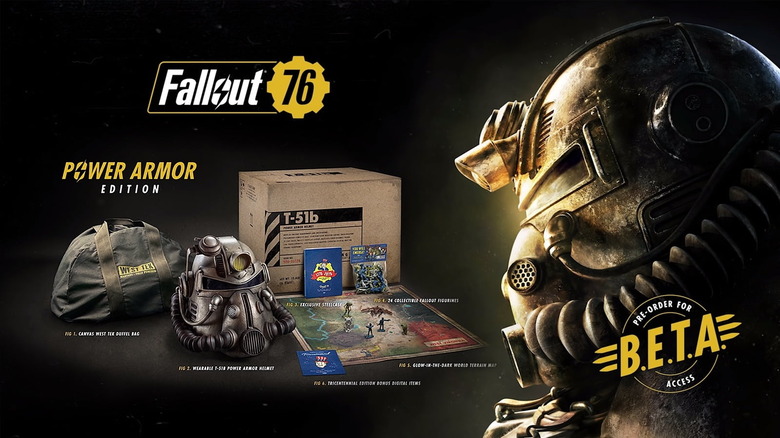 Yes, Bethesda finally gave in and promised real canvas bags to those who purchased Fallout 76's Power Armor Edition. But those bags won't be coming anytime soon, according to VG247. Bethesda's replacement bags won't ship for another 4-6 months, which is an awful long wait for something that should've been there to start.
In case you've been living under a rock, the Power Armor Edition of Fallout 76 included an assortment of Fallout-related merchandise, including a replica power helmet and a map of Fallout 76's West Virginia locale. But the item that got Bethesda into real trouble was the canvas tote bag. When customers finally started receiving the Power Armor Edition at Fallout 76's launch, they noticed they'd been on the receiving end of a switcheroo.
The canvas bag wasn't made of canvas at all. Instead, it was constructed using a far less durable nylon material.
The situation might not have blown up in the way it did had Fallout 76 not been terrible. Unfortunately, the launch of Bethesda's MMO take on Fallout was anything but rosy. And Bethesda's response to bag-gate didn't help the company, either. Rather than offer to make things right with replacement canvas bags, Bethesda at first offered $5 of in-game currency.
That understandably wasn't good enough.
To make matters worse, Bethesda's support website somehow cracked wide open when the company committed to replacement bags, exposing customer data when other customers came to submit support tickets. Add that disaster to all of the other disasters, and you have one big nylon bag full of disasters, tearing at the seams.
But at least the bag situation is somewhat taken care of now, even if customers have to wait half a year to get them. Fallout 76 still isn't ready for prime time, and it'll take more than a make-up tote and some video game funny money to fix that mess.