Xbox Is Having A Holiday Sale Now, Too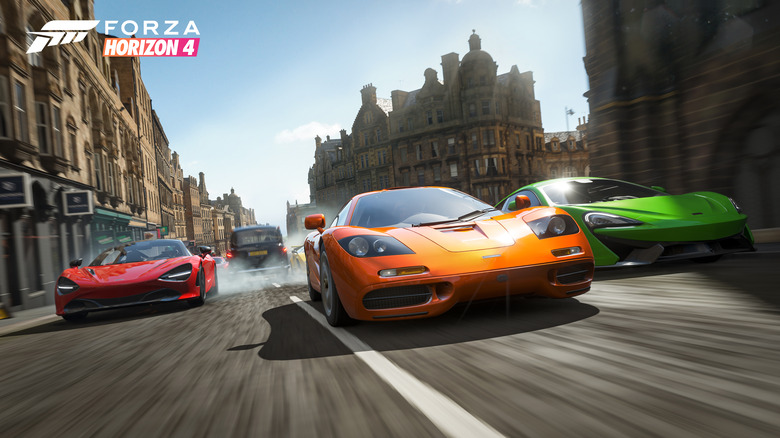 We apologize for going all sale-crazy on you, but it seems like everyone is out for those last remaining holiday dollars this week. The latest platform to join the fray is Xbox One, which now has a Countdown Sale featuring tons of discounts on Xbox One titles.
In terms of Xbox One exclusives, it's hard to go wrong with Forza Horizon 4. The game is just fun to play, whether you're racing around the United Kingdom against other players, pushing the pedal to the floor near a speed trap, or searching out XP boards and fast travel signs. Forza Horizon 4 is arguably the best racing game on the market right now, and you can get it in the Xbox Countdown Sale for $38.99.
And hey — why not check out Assassin's Creed: Odyssey, too? Odyssey wasn't nominated for a bunch of Game Awards by accident. It's set the bar for the Assassin's Creed franchise going forward, packing all of the action you can handle into its Greek setting while including some RPG elements that make the game far more enjoyable than some of the past AC titles. You can nab Odyssey in the Countdown Sale for $35.99, which is pretty, pretty good.
We've listed everything else that's worth checking out below.
Battlefield V – $35.99
Call of Duty: Black Ops 4 – $44.99
Hitman 2 – $35.99
Shadow of the Tomb Raider – $35.99
Far Cry 5 – $30
Dead Cells – $18.74
BioShock: The Collection – $19.80
Batman: Arkham Collection – $19.80
Doom – $16.59
Grand Theft Auto 5 – $17.99
Ori and the Blind Forest: Definitive Edition – $11.99
Quantum Break – $13.20
Resident Evil 7 biohazard – $17.99
Tacoma – $4.99
What Remains of Edith Finch – $11.99
XCOM 2 – $19.80
According to Microsoft, the Countdown Sale is scheduled to end on Jan. 3, 2019. That means you still have plenty of time to save on these game deals, as well as the deals Microsoft is offering on Xbox One consoles, Game Pass, and Xbox Live Gold.