Mortal Kombat 1 Leak Reveals Future Invasion Bosses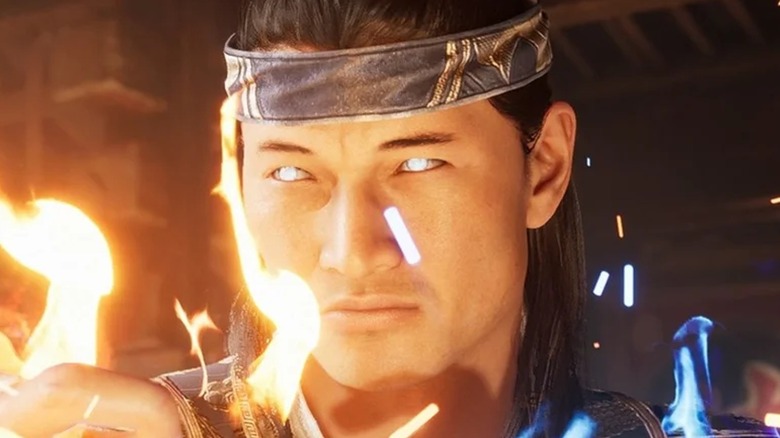 Warner Bros. Games
Contains spoilers for "Mortal Kombat 1."
"Mortal Kombat 1" leans heavily on the concept of the multiverse for its plot, and it looks like even more alternate timelines are about to intersect. The game acts as a soft reboot of the long-running fighting series, offering fans a remixed version of the universe they know. Along with new takes on old favorites, the game also packs in a handful of brand new gameplay elements, including Invasion mode. Taking what worked from some of NetherRealm Studios' previous single-player modes, like the Krypt from "MK11" and Multiverse from "Injustice 2," Invasion mode places players on a game board and sets them against alternate universe versions of the main game's fighters. The game's current season, "Season of the Spectre," features Hanzo Hasashi, a.k.a. the original Scorpion, as the big bad of Invasion mode. Now, a new leak may have just given fans a heads up about the next few bosses headed to Invasion.
Advertisement
According to noted "Mortal Kombat" leakers/dataminers @thethiny and Interloko, gamers can expect to face off against Nitara, Raiden, Mileena, and Sub-Zero as the main villains in Invasion's four upcoming seasons. Furthermore, these seasons are supposedly named "Blood Moon" "Thunder Take You," "Hybrids," and "Cryomancer." That's not all, though: Interloko has also managed to pull some voice files from the game's code, revealing even more details about what Invasion has in store.
= MK1 Datamine Tweet = Invasions Seasons =
Seems like I forgot to post about this before, but here are the next 4 Invasions Seasons, courtesy of @interloko.

1- Blood (Nitara)
2- Thunder (Raiden)
3- Hybrid (Mileena)
4- Cryomancer (Subzero)

— thethiny 🐰 (@thethiny) October 2, 2023
Advertisement
Mortal Kombat 1's next four Invasion seasons are planned out
On YouTube, Interloko has shared a series of voice lines that have been unearthed. Liu Kang can be heard warning players of the trials to come. Thanks to his position as a time-bending Fire God, Liu Kang is able to see each new multiversal incursion as it begins. Judging from the intros here, players can soon look forward to fighting their way through Sindel, Mileena, and Raiden variants in the upcoming "Blood Moon" chapter — along with a special warning not to kill Raiden at the end of this match. This restriction again raises the question of whether or not NetherRealm will be adding Mercy moves into "MK1" before the next season commences. These special finishers did not make it into the launch version of the game, but recent Daily Quests have convinced some fans that they'll be implemented in a future update.
Advertisement
The following seasons sound no less treacherous, thanks to surprising new variants of classic enemies rearing their ugly heads. One of the more interesting developments teased in the leaked voice lines is a version of Shang Tsung who joined the Lin Kuei clan. Though these leaks are most likely legitimate, it's always possible that NetherRealm's plans may have changed since these lines were recorded. Still, these leaks are a fascinating find for fans of the new "Mortal Kombat" multiverse.