Super Meat Boy Is Now Free In The Epic Games Store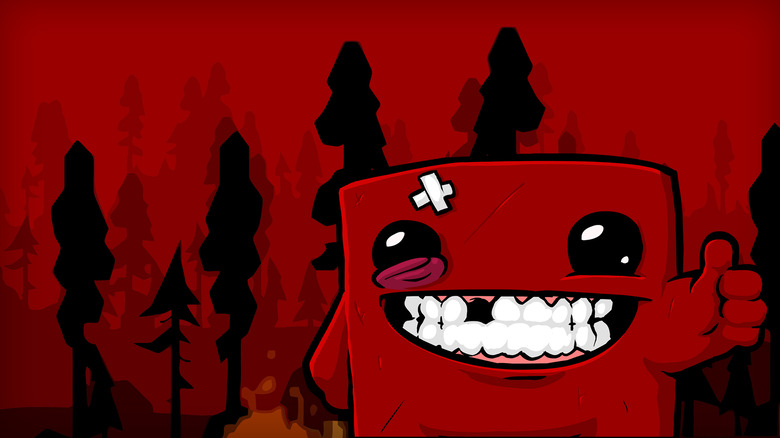 If you're a fan of challenging platformers, you can grab one of the best games in the genre for free starting today. Super Meat Boy is the next giveaway title in the Epic Games Store, giving anyone with a PC a chance to wall jump as a chunk of red meat.
Super Meat Boy first arrived way back in October 2010 as an Xbox Live Arcade launch title before releasing on PC soon after. It eventually made its way to other platforms over the years, as well, including the PlayStation 4, PlayStation Vita, Wii U, and — more recently — the Nintendo Switch. And now it's a freebie in the Epic Games Store, which Epic recently launched as a challenger to Steam and other digital game markets.
Even though Super Meat Boy is over eight years old, it's still a steal for zero dollars. According to IGN's review of the game, Super Meat Boy is "infuriating, exasperating, and arduous, but it's also delightful, thrilling, and hilarious." The outlet called it "one of the best modern platformers around" at the time, and years later, one could argue that Super Meat Boy can still make that claim. You can see its influence in games like Celeste, but if you prefer your main characters to be less human and more meaty, fear not: a sequel called Super Meat Boy Forever is currently in development.
Super Meat Boy will remain free for the next two weeks before it's replaced by a brand new free game in the Epic Games Store. And throughout the next year, Epic will continue to swap games out every two weeks for something new. Call it a goodwill move by Epic, or call it a sly way for the company to ensure that the Epic Games Launcher gets installed by a lot of people. Either way, there'll be more where Super Meat Boy came from in the way of free stuff, and we'll be sure to let you know when the new games arrive.