Save During Nintendo's New Year's Digital Sale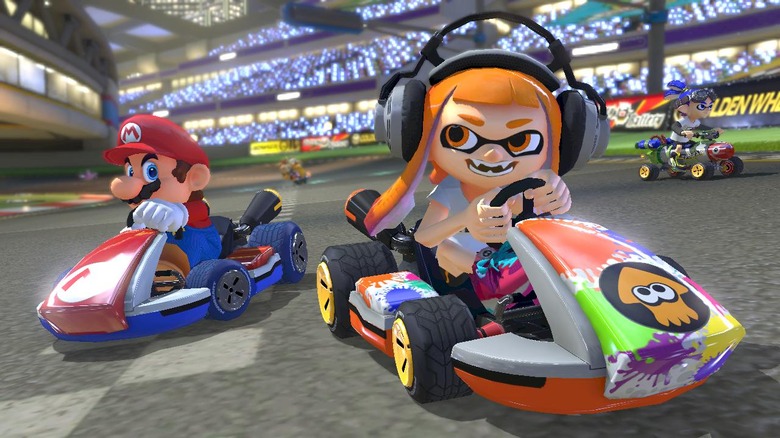 Did you just get a Nintendo Switch this holiday season? If so, Nintendo has a sale all lined up and ready to go. The company launched a New Year's Digital Sale today featuring sales on a bunch of Nintendo hits, as well as an assortment of third-party favorites.
Leading off the list is a game that is undoubtedly a must-own for any Nintendo Switch owner: Mario Kart 8 Deluxe. What can we say? This is every bit the Mario Kart that you may or may not have played on the Wii U, along with the DLC tracks and characters that came with that title's expansion pass. It's tons of fun, plays great whether you do it locally or online, and is a steal at $41.99.
Another popular Switch title included in the sale is Splatoon 2. If you're not all that familiar with this one, imagine a third-person shooter where the guns shoot paint and the melee weapons are rollers. You're trying to splash territory with paint just as much as you're trying to eliminate other players, which makes this game incredibly approachable for those who might not be as skilled at other multiplayer shooters. You can pick up Splatoon 2 in the sale for $41.99, as well.
And how about an RPG? Octopath Traveler is an innovative role-playing game from Square Enix that brings eight stories together in a visually unique world. Like many of the games on sale here, it's not often you see a discount for Octopath Traveler. So if this is one you've had an eye on for a while, now might be the time to finally pull the trigger. Like the two above, it's on sale for $41.99.
Below are the other Nintendo Switch titles you'll find discounted for the New Year's Digital Sale.
ARMS – $41.99
Hyrule Warriors: Definitive Edition – $41.99
Mario + Rabbids Kingdom Battle Gold Edition – $26.39
Sid Meier's Civilization 6 – $44.99
Starlink: Battle for Atlas – $29.99
LEGO DC Super-Villains – $29.99
LEGO Harry Potter Collection – $24.99
Carnival Games – $25.99
Wizard of Legend – $12.79
Mega Man Legacy Collection – $11.24
Golf Story – $9.89
The Gardens Between – $12.99
Flat Heroes – $6.49
Iconoclasts – $14.99
Capcom Beat 'Em Up Bundle – $15.99
Horizon Chase Turbo – $17.99
Carcassonne – $15.99
Just Shapes & Beats – $14.99
Puyo Puyo Tetris – $20.99
Final Fantasy 15 Pocket Edition HD – $19.49
The Jackbox Party Pack 5 – $20.99
Wandersong – $15.99
Pode – $17.49
Flinthook – $10.49
Dust: An Elysian Tail – $10.49
The Jackbox Party Pack – $13.74
NAMCO Museum – $14.99
Spelunker Party! – $14.99
According to Nintendo, this sale is scheduled to end on Jan. 10. That means you have one week to dive into those couch cushions and scrape up enough quarters for some of these deals. Good luck!