This Beloved Adam Sandler Movie Nearly Became A Video Game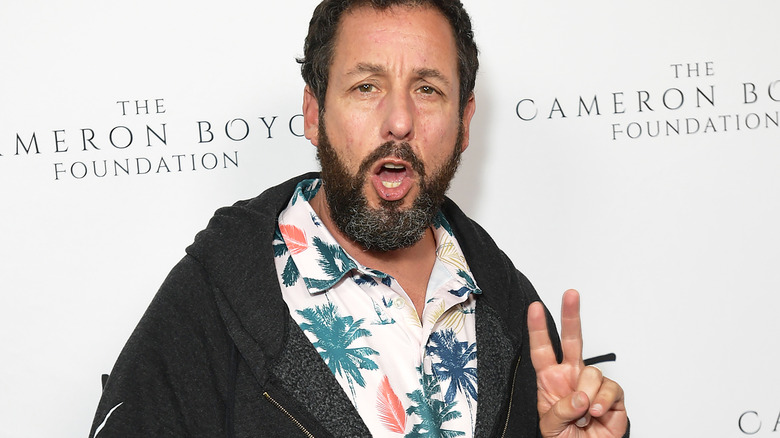 Unique Nicole/Getty Images
Adam Sandler is one of the few celebrities who has seemingly never had a lull in popularity. Even with some truly bad movies to his name, he's managed to remain successful with his core fanbase. The Sandman's films continue to dominate in the streaming era, with many of Netflix's most-watched movies belonging to his ouevre. Considering his level of fame, it's a surprise that he's never really made much of a dent in the world of video games — and no, "Pixels" doesn't count.
Advertisement
Licensed video games have been around for pretty much as long as the medium has existed, and many of them are simply not that great. In 2023 alone, players have been subjected to shovelware such as "The Lord of the Rings: Gollum" and "Skull Island: Rise of Kong," both of which are proof that some companies think a recognizable IP is all you need to make a successful video game. To date, the only one of Adam Sandler's films to get the video game adaptation treatment has been "Little Nicky," a film in which Sandler plays the devil's son. Developed by Digital Eclipse for the Game Boy Color, it's worth noting that the game actually received marginally warmer reviews than the film that inspired it. In an 8/10 review, IGN noted, "You don't need to be a Sandler fan to appreciate the design that went into his first video game." What many fans may not know, however, is that Digital Eclipse nearly followed this win with an adaptation of 1996's "Happy Gilmore."
Advertisement
Digital Eclipse's unmade Happy Madison game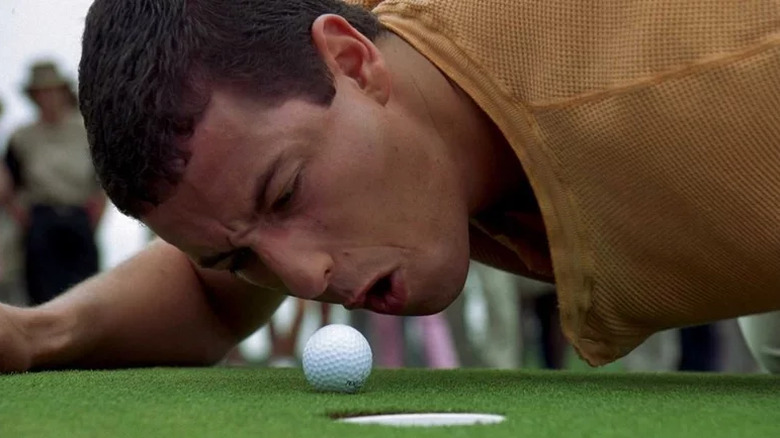 Universal Pictures
Digital Eclipse President Mike Mika has discussed the unmade "Happy Gilmore" game on a few occasions, describing it as a genre mash-up that would have incorporated gameplay elements from both sports and fighting games. The dev team took particular inspiration from the Atari 7800 cult classic "Ninja Golf," itself a bizarre beat-'em-up golf title. The game was planned as an Xbox exclusive, as evidenced by the cover sheet for the pitch that Mika shared on X (formerly known as Twitter). Digital Eclipse's "Happy Gilmore" would have allowed players to choose from different golf clubs, each with their own strengths and abilities, as well as included characters from the movie as unlockable content.
Advertisement
At one point we were pitching this hybrid fighting and golf game with the Happy Madison crew. Good times. It should have been greenlit because it was a great idea. pic.twitter.com/Ty03MNQoP8

— Mike Mika (@MikeJMika) July 16, 2021
According to Mika, this project had something that many other license games have lacked over the years: the approval of the original star. Adam Sandler was apparently very enthusiastic about the project, particularly after Digital Eclipse's work on "Little Nicky." Mika explained, "[Adam Sandler] was on the periphery of it all- super supportive. His brother was amazing, he was the ringer in trying to get these companies to get off their a** and also to get the right deal ... they were the absolute best group to work with." It's unknown exactly why the game never quite made it into active development, but it seems like it could have stood apart from some of the lesser licensed games of the era. As it stands, all Sandler fans can do is imagine what might have been.
Advertisement