Jackbox Party Pack Is The Next Free Game From Epic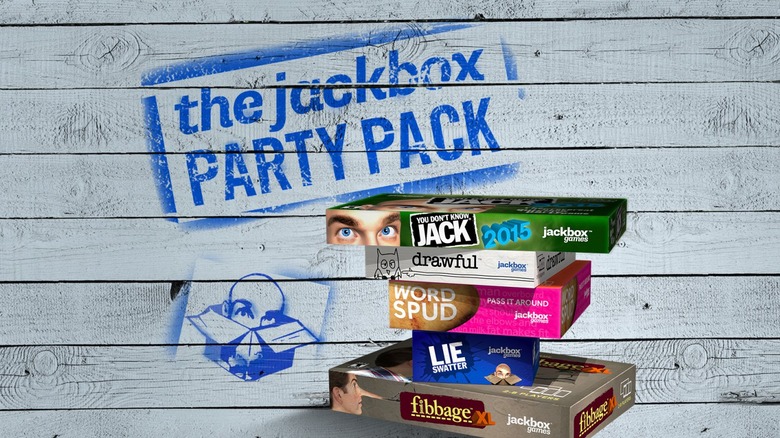 The Epic Games Store's latest free game, What Remains of Edith Finch, only went live yesterday — but we're already looking ahead. According to the store's website, Jackbox Party Pack will be the next freebie Epic adds to the store, and it'll be ready for you to download on Jan. 24.
Advertisement
If you're not familiar with the Jackbox series, you're seriously missing out. Each "Party Pack" is a collection of games that one could compare to, say, Cards Against Humanity or some other adult-themed tabletop board or card game. All of the games included can make use of mobile phones as input devices, meaning that you can have far more players than you might otherwise be able to accommodate on your PC. And they all make for some silly and, sometimes, inappropriate situations.
You Don't Know Jack 2015 is the first game included in the collection, and is a pretty straightforward trivia game. We can't speak to how current the questions are, as they're mostly based around pop culture and things in that space change rapidly. But if you want to do battle with your friends in a game you can understand right off the bat, You Don't Know Jack is a good place to start.
Advertisement
Fibbage XL is another game in the Jackbox Party Pack, and it's one of the better Jackbox games you'll play here. Each player is given a fact with a word missing, and the object is to either complete the fact with an incorrect word that another player could believe is right, or actually enter the correct word and let other players assume you're making it up. It's tons of fun.
In Drawful, the mission is simple. Each player gets a phrase that they have to bring to life in a drawing. Those phrases and words are then separated, and each picture is shown to players, giving them an opportunity to choose which word they think matches up.
Lie Swatter is incredibly easy to pick up, and will require the shortest explanation. Trivia factoids are shown on screen, and players must use a fly swatter to swat the factoids they believe are untrue. Whoever is right the most wins.
And finally, there's Word Spud. This is almost a game that you could play without the aid of Jackbox Party Pack, as it involves word association. A word is shown to everyone and each player, one at a time, tries to come up with a word that is often associated with it. At the end of a round, everyone votes for the player word that is most associated with the original.
Advertisement
Jackbox Party Pack is particularly great for get-togethers, and at the cost of free, you can't go wrong. It'll show up on the Epic Games Store in a little less than two weeks on Jan. 24, so mark your calendars.