The Five Nights At Freddy's Rating Still Has People In An Uproar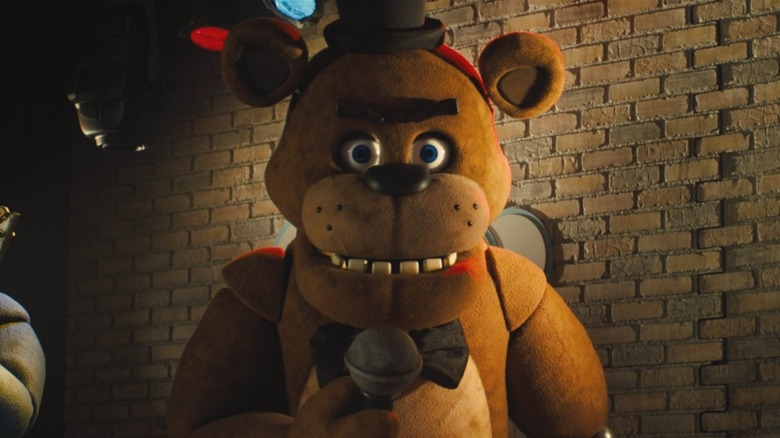 Universal Pictures
The "Five Nights At Freddy's" franchise is not exactly known for its blood and gore, despite being a series in which animatronic animals grind up kids and security guards alike. Aside from the many, many jumpscares in "FNAF," much of the series' horror is atmospheric. There's always a fear of something sneaking up on you, or taking the wrong turn into the wrong hallway. Despite the relative lack of nasty onscreen violence, the tone of the series is one of constant tension. When it was announced that "Five Night's At Freddy's" was finally being adapted into a film from Blumhouse — the company behind horror hits like "Paranormal Activity," "The Conjuring," and David Gordon Green's "Halloween — they hoped it would follow suit as an R-rated spooktacular. Unfortunately for that set of fans, "Five Nights At Freddy's" hits U.S. theaters this week with a PG-13 rating. While this will no doubt open the film up to a wider audience (including the kids that love this franchise), it hasn't sat particularly well with some moviegoers, with some describing the rating as a red flag.
Advertisement
Early reactions to the film have started to trickle in over the last few days, and while some people have greatly enjoyed the franchise's first theatrical foray, others are bummed by the fact that it just doesn't feel that scary. These viewers are not holding back their thoughts, either, with many taking to X (formerly Twitter) to share their disappointment with the toothless film.
FNAF director backs up the PG-13 rating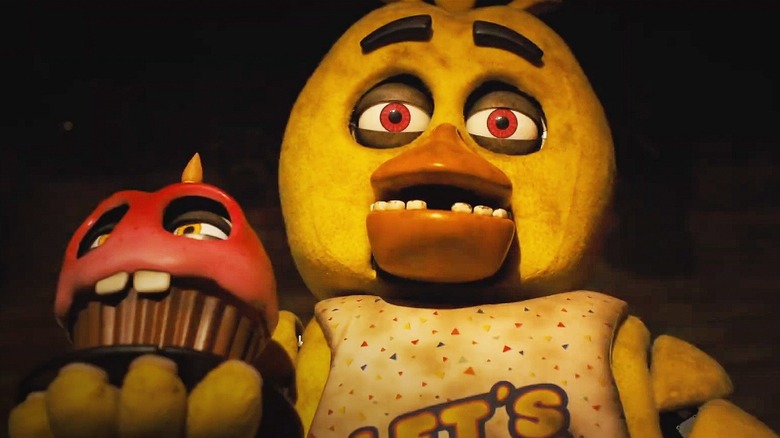 Universal Pictures
Early audience reactions to "Five Nights At Freddy's" suggest that the movie doesn't quite reach the spooky heights of its source material, despite excellent production design. Film critic Ren Vieira writes, "['Five Nights At Freddy's] is nothing but a dull, uninspiring collection of lame jumpscares collaged together in a thin plot. Cool setting, cooler practical animatronics but zero atmosphere." FilmSpeak's Griffin Schiller remarked, "Not scary. Boring, dull, joyless, lacking teeth ... Such a mess." As reviews continue to pop up online, some fans are already blaming the lighter content rating for the lukewarm reception.  One fan simply posted, "FNAF not being rated R is so lame," a sentiment shared by a number of gamers on the precipice of the film's wide release. Another wondered what series creator Scott Cawthon would think about the rating.
Advertisement
In a new interview with Forbes, director Emma Tammi got into the thought process behind the rating: "We knew that some of the fan base would want an R-rated version of this film. On the one level, we wanted to be inclusive of the younger audiences and knew we were going to hit the PG 13 rating, but for the audience that also wanted that level of violence, if you will, or at least insinuation of violence, we really wanted to still include elements that felt dark."
For some fans, this explanation makes total sense. After all, a large swath of the series' fanbase is made up of younger kids, so the studio doesn't want to cut them out of the moviegoing audience. A few movie fans have also pointed out that there are already two other flicks that would fit the bill for fans looking for an R-rated "Five Night's At Freddy's"-style movie, those being "The Banana Splits Movie" and "Willy's Wonderland."
Advertisement
We already have an R-rated FNAF movie pic.twitter.com/FJKOdNRr3k

— 𝕿𝖆𝖛𝖊𝖗𝖓 𝖔𝖋 𝕿𝖊𝖗𝖗𝖔𝖗𝖘 (@tavernofterrors) October 25, 2023
Does an R-rated FNAF movie exist?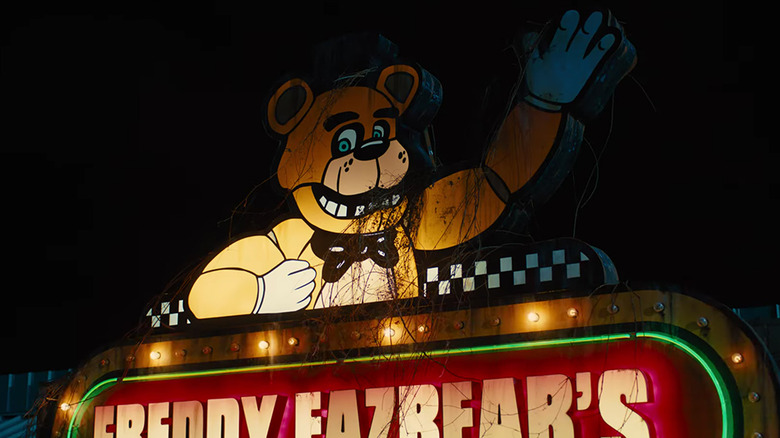 Universal Pictures
Rumors have circulated for weeks that a more mature cut of "Five Nights At Freddy's" might still be waiting in the wings, but that the film had simply been edited down from its original cut to attain its current PG-13 rating. This idea is certainly not without precedent at Blumhouse: Last year, the studio's smash hit "M3gan" was released in theaters with a PG-13 rating, then received a gorier unrated cut on home video and streaming. Depending on who you ask, "M3gan Unrated" is often considered the superior version of the movie, with the small added bits of carnage making all the difference. 
Advertisement
According to Emma Tammi, however, no such reissue is currently in the cards for her "Five Night's At Freddy's" adaptation. "I would say not to expect an R-rated version on this one," Tammi explained to Forbes. "We're really happy with how the PG-13 tone landed; it felt like the right fit for this particular film. We're sticking by it."
Despite these comments, some fans are still holding out hope that they'll get to see an R-rated "FNAF" movie at some point, especially if the first one does as well at the box office as expected. Devotees of the spookiest animatronics in showbiz will simply have to wait and see.