A Stealthy Snowman Sneaks Into Fortnite's V7.20 Update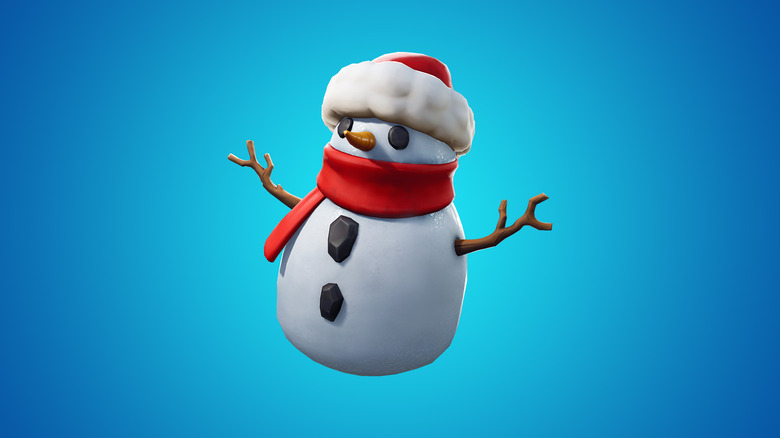 Hey Fortnite players: are you tired of sneaking around in a super obvious bush? Trade that little tree in for a Sneaky Snowman, which arrives in Fortnite's v7.20 update, along with a host of other changes.
Epic Games announced the Sneaky Snowman in a blog post today, and also included a video clip of the snowman in action, which you can watch here. Look forward to having a Sneaky Snowman inch ever closer to you each time you aren't looking in Fortnite. And have fun shooting all of the other snowmen you think are players in disguise.
On top of the Sneaky Snowman addition, Fortnite is bringing something new to The Block. It's a giant pyramid designed by a player named Directingpete, and it looks like a true work of art. It'll probably make for a great battleground, too. And word is, there's a mystery within the pyramid (we don't know what it is, though).
If you're a good shot, you'll no doubt enjoy the latest limited-time mode coming to Fortnite: Sniper Shootout. This mode contains scoped weapons only, so if you're skilled with a sniper rifle, scoped pistol, or another precision weapon type, now's your chance to shine.
And there are some other changes coming to Fortnite outside of Battle Royale, as well. In Save the World (which still isn't free), you can team up with a squad to knock out the latest challenge, which unlocks the Guardian's Will Sword. And there's also a new Hero for Save the World called Lynx Kassandra. She's a limited-time character, so you'll have to move quickly to unlock her before time runs out.
Despite the weather, things are definitely heating up in Fortnite right now. The game's Ice Storm event is rolling, after the Ice King emerged from a floating orb to cover the land in snow. And the next season of Fortnite — Season 8 — is likely to arrive sometime within the next month.
We'll keep you updated with any other changes that come to Epic's battle royale shooter.