Anthem's VIP Demo Is Live, And The Servers Are Slammed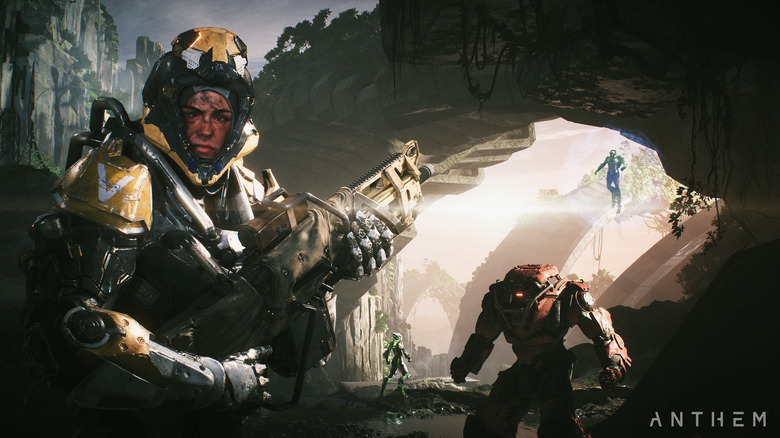 It wasn't difficult to see this coming. Anthem's VIP demo, which allows pre-order customers and EA/Origin Access subscribers to play a vertical slice of the game, is now live as of 12 p.m. ET. And people are having a really hard time getting in.
Players who logged in at the demo's start time have encountered a host of error messages, random kicks back to the title screen, and occasions where the game seemingly isn't doing anything at all. EA's website — where players could get demo codes to distribute to friends — also experienced a few brief hiccups. Those seem to be largely resolved at this point, but Anthem's game servers are still under siege from those who've pre-ordered the game, those who subscribe to one of EA's subscription services, and those curious folks who want to explore Anthem's world with a friend.
The VIP Demo is set to wrap up on Sunday, Jan. 27. After that, access to the demo will be shut down until next Friday, Feb. 1. At that point in time, a full Anthem demo will be open to the public at large, regardless of whether someone has pre-ordered the game or subscribes to EA or Origin Access.
It may not feel like it, but the early access launch of Anthem is not too far off in the distance. The game will go live on Feb. 15 for EA Origin Premier subscribers, and a ten-hour demo will also become available for EA Access subscribers on that date. A week later on Feb. 22, Anthem will launch officially for all the world to experience.
It would be rather fantastic if Anthem's VIP Demo started working, as some players (furiously pressing the "A" button when a "server full" message pops up) are hoping to get an early glance at the game for coverage purposes. But it's possible that, as the day wears on, players will begin to leave and make room for others, or EA will bring some additional servers online to handle the demand.