Did Roblox Really Ban My Eyes Deceive?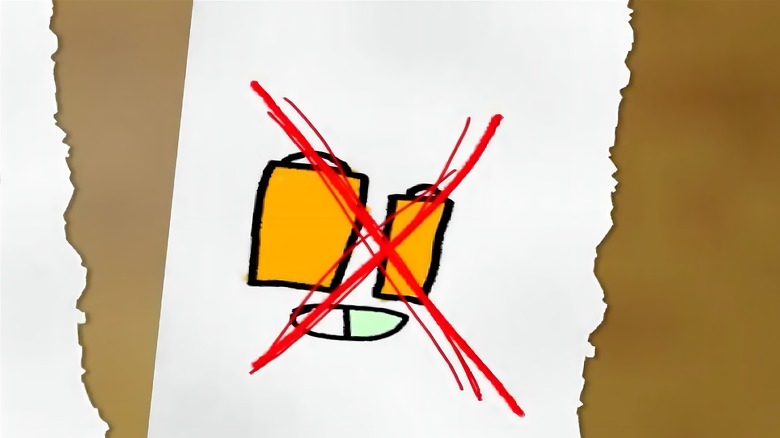 Cheez Plox
The following article includes discussions of domestic abuse and sexual assault.
"Roblox" is, by and large, a family-friendly platform for players to create their own unique worlds to explore and share with others. Because of this, it's become a gateway for a great number of young gamers, as well as for aspiring programmers to show off their creativity with original games. This also means that Roblox Corporation has had to roll out stricter content guidelines over time, with the goal of protecting young users. Though the platform has come under fire a number of times for allowing obscene content to thrive on its servers, it has also been criticized for removing mature games that have developed a strong following. "My Eyes Deceive" would seem to be one such case, but there's actually much more to the story.
Advertisement
As described by developer Nouhidev, "My Eyes Deceive" is "a first-person psychological horror experience set in a basement ... you play as a young girl who has been living there all her life." With the world outside of this shelter seemingly in ruins, the player must try to figure out what's real and what's imagined, as well as grapple with the protagonist's eroding sense of trust in her father figure, who keeps supplying her with mysterious drugs.
Telling its story through a mix of point-and-click interactivity and dream logic, "My Eyes Deceive" has quickly gained a reputation as one of the most unsettling horror games in recent memory. It's become a go-to game for streamers looking for a frightening narrative, as well as a talking point for fans of scary games. However, the same elements that have caused this game to gain its following have also invited a great deal of criticism, with some people feeling the game goes entirely too far.
Advertisement
Why is My Eyes Deceive so controversial?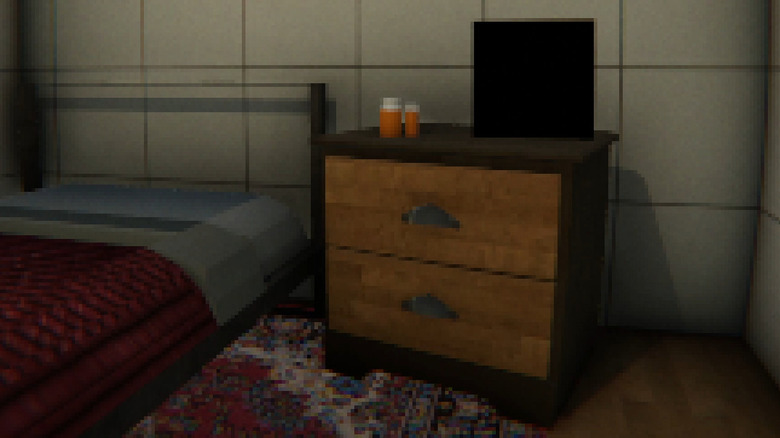 Nouhidev
In a document posted to Nouhidev's page for the game on itch.io, the developer explains some of the more confusing plot points in "My Eyes Deceive." Be warned, though: This game broaches some seriously disturbing subject matter, even as it leaves some of the details purposefully hazy. Though it's possible to achieve a good ending for the game, it's a very traumatic road for the main character to get there. Most haunting of all, some elements of the story draw from the disturbing real-life case of Josef Fritzl, who kept his daughter captive and abused her for more than two decades before his eventual arrest.
Advertisement
Some commenters on the dev page for the game have mentioned feeling sick after playing the game, sometimes not even being able to finish a full 45-minute playthrough. More than one person has also expressed concern that the game may not feature sufficient trigger warnings for unsuspecting players, with one commenter claiming to have nearly suffered a panic attack upon realizing what's going on in the story. 
However, these concerns over the game's content are not why "My Eyes Deceive" was suddenly removed from "Roblox." In fact, players who find the game through Nouhidev's site will no doubt notice that it feels decidedly different from a typical "Roblox" creation — and there's a very good reason for that.
Advertisement
Why Roblox removed My Eyes Deceive
As explained by Nouhidev (and recapped by Markiplier in his playthrough of the game), the horror title was never intended to be a "Roblox" game in the first place. Nouhidev's original version of "My Eyes Deceived" was published through itch.io with very little fanfare, which gravely disappointed the dev who worked so hard on it. "Sometime later, I met one of the developers of 'Cheez Plox,' who asked me if they could recreate it in 'Roblox,'" Nouhidev explained. "Without giving it much thought at the time, I gave them permission."
Advertisement
The "Roblox" remake of "My Eyes Deceive" quickly blew up, attracting the attention of several high-profile YouTubers and content creators and launching a wider discourse surrounding the game's story. Nouhidev's excitement quickly turned to frustration, especially as the original version of the game seemed to be largely left out of the conversation. With this in mind, Nouhidev approached the dev behind the "Roblox" version of "My Eyes Deceive" and asked that it be taken down.
In the aftermath of this takedown, some gamers and fans have assumed that "My Eyes Deceive" was banned from "Roblox" over content concerns, but this does not appear to be the case. The original version can still be found on itch.io, and Nouhidev is currently working on getting the game added to Steam in the future. With that in mind, if you're curious about playing "My Eyes Deceive" for yourself, or even watching a playthrough from one of your favorite YouTubers, make sure to do so with caution.
Advertisement
If you or anyone you know has been a victim of sexual assault, help is available. Visit the Rape, Abuse & Incest National Network website or contact RAINN's National Helpline at 1-800-656-HOPE (4673).