'Mortal Kombat 11' Director Responds To Shaggy Petition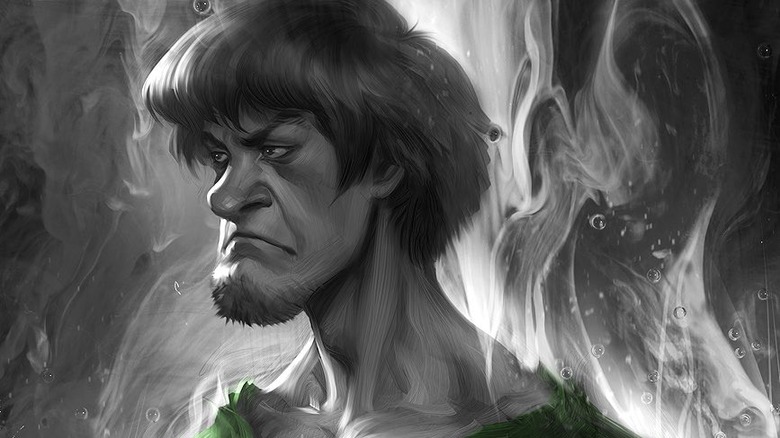 Twitter: @Artgerm
It's sometimes said that everyone has a dark side. Does Shaggy from Scooby-Doo have one? At least, enough of one to join the brutal, bone-crunching cast of Mortal Kombat 11? The creators and supporters of a Change.org petition seem to think so. And now that the petition's picked up steam, none other than Mortal Kombat 11 director Ed Boon has issued a response.
Advertisement
"Let me know how that works out for you ..." Boon tweeted to a Twitter user named @nickmcc24, seemingly pouring water on the possibility that Shaggy could join the MK11 roster.
But Boon didn't let the request go without being a good sport about it, later tweeting an image of a sinister-looking Shaggy with an otherworldy glow.
To most of you, this whole situation must seem entirely random. Why would a bunch of people suddenly want Shaggy — normally a bumbling, unintimidating fool — to become part of a gruesome fighting game like Mortal Kombat 11? The answer, it appears, can be traced back to a year-old internet meme called Ultra Instinct Shaggy. The meme resurfaced this month, making the rounds on Reddit and Instagram as users created new images to pay homage to a more powerful Shaggy. And according to Know Your Meme, a website called Woken News posted the Change.org petition that eventually caught Ed Boon's attention.
Advertisement
That petition, by the way, now has close to 173,000 supporters signed on. And it's quickly climbing toward the petition goal of 200,000, adding new supporters by the minute.
There's really no explanation for what caused the Ultra Instinct Shaggy meme to make a reappearance. Sometimes when it comes to the internet, what's old can be new again. And thanks to the instantaneous nature of communication online, old ideas can get a refresh very quickly. We do know that the meme gave birth to a successor in the form of Shaggy's Power, and that some are also using that meme for inspiration as they rally around Shaggy's inclusion in Mortal Kombat 11.
But it seems based on Ed Boon's response that we won't be seeing Shaggy take on all comers in Mortal Kombat 11 anytime soon — or at all. And frankly, it's probably better that way. The little bit of comedy found in the Mortal Kombat series often comes from over-the-top fatalities, not from the sort of slapstick humor Shaggy is known for. And aside from his ability to run through impossibly connected hallway doors, or his knack for jumping into the waiting arms of his dog, Shaggy doesn't have much of a move set to speak of.
Shaggy would be a fish out of water next to the likes of Scorpion and Sub-Zero. Which is why it's better that the whole idea remains a meme propagated by super hilarious people on the internet, rather than a serious concept that Ed Boon and NetherRealm Studios should run with.
Advertisement
But hey! Aside from this whole Shaggy debacle, Mortal Kombat 11 look to be shaping up pretty well. Push Square is reporting that there are 11 confirmed characters for MK11 so far, including Baraka, Geras, Raiden, Scorpion, Skarlet, Sonya Blade, Sub-Zero, and Shao Khan (as a pre-order bonus). And we don't know if you caught the news about Sonya Blade, but she'll be voiced by former UFC champion (and current WWE champion) Ronda Rousey.
We've seen plenty of footage of Mortal Kombat 11, including a healthy dose of the game's fatalities. The game reportedly features the "biggest story yet" of any Mortal Kombat game ever. And perhaps the best news of all, Mortal Kombat 11 will be launching day and date on four platforms: PC, PlayStation 4, Xbox One, and yes, Nintendo Switch. The rumor is, Nintendo will actually let the game feature blood this time.
You can look forward to picking up Mortal Kombat 11 when it arrives on April 23. No, you probably won't be able to play as Shaggy from Scooby-Doo. And no, you probably won't get any other ridiculous characters into the game by starting an online petition. But Mortal Kombat 11 definitely looks like a fine entry to the series, and we look forward to jumping in and checking it out when it arrives in a few months.
Advertisement