How Kratos Was Created On A Fast Food Chain's Napkin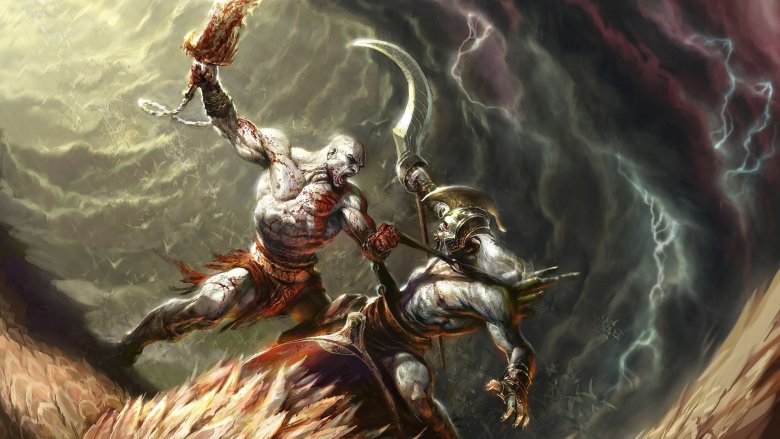 Charlie Wen
One of the most popular characters in video games, Kratos, almost looked very different, according to Charlie Wen, former director of visual development at Sony Santa Monica. How different?
"We went through so many different things. I mean, I tried Kratos as a female," recalled Wen during our exclusive interview.
While it's hard to imagine a video game landscape without Kratos now — over a decade after his debut in the first God of War game for the PlayStation 2 — it took a while for Wen to figure out just how the pale, tattooed Spartan should actually look. All told, Wen said that the process of coming up with Kratos' design took roughly a year and a half since the character's initial conception to his final design.
And just as some of the Greek gods had some very strange first appearances — like how Athena was born fully grown out of Poppa Zeus' actual head — Kratos likewise came into the world in a most unexpected place: he appeared suddenly and without warning near some greasy meats and fries. Here's the story of how Charlie Wen designed the Ghost of Sparta.
Crash of the Titans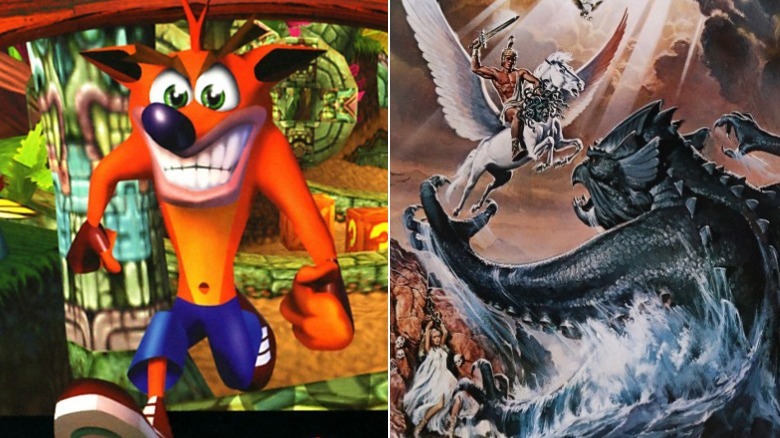 In the early 2000s, Sony's PlayStation 2 was at the top of the console heap, having come off a successful video game hardware debut in the late 1990s with the original PlayStation. Back then, consoles tended to have cartoony mascots to draw in kids and parents. As such, the PlayStation's take on Sonic and Mario came in the form of Crash Bandicoot, a 3D platformer developed by Naughty Dog and published by Sony itself. But with the PlayStation 2 era and the industry's realization that gamers were growing up with the hobby, rather than aging out of it, Sony needed to find a way to mature their mascot along with their audience.
That's where Sony Santa Monica, David Jaffe, and Charlie Wen came in.
"We were trying to come up with a new icon for Sony," said Wen of the time. "I was brought in to concept what it could feel like and look like."
Jaffe, who'd formerly found success as the director of the PlayStation's Twisted Metal series, was the director and lead designer on the game project that would eventually become God of War. According to Wen, Jaffe's idea was inspired by the films of Ray Harryhausen, the legendary stop-motion animator whose work turned B-movies like Jason and the Argonauts and Clash of the Titans into cinematic classics. And considering how many skeleton fights occur throughout the God of War series, Jaffe definitely got what he wanted.
Before Kratos, there was Dominus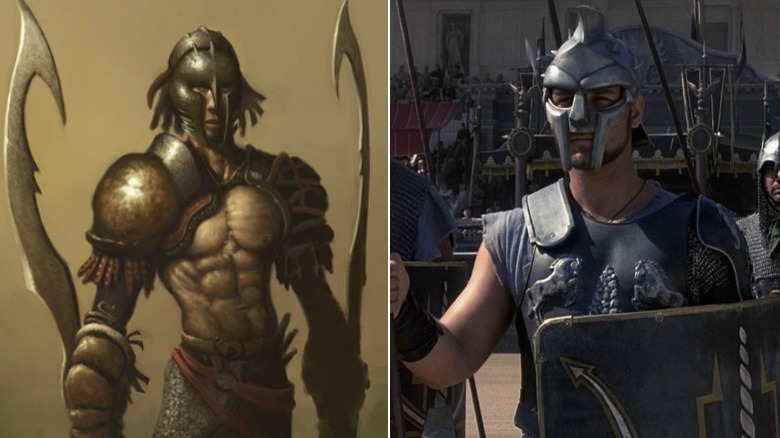 Charlie Wen
Some of the changes the original God of War went through included different names for both the game and its lead character. Instead of Kratos starring in God of War, we could've had Dominus starring in Dark Odyssey.
And while Ray Harryhausen's films were the original inspiration for the game, that wasn't the only movie that provided a jumping off point for the new game project. According to Wen, he was heavily influenced by the Russell Crowe-starring sword-and-sandals historical epic Gladiator. "I remember just having that score being played through my background," Wen said of the period he was working on the character's design.
Rather than strict historical accuracy, what was most important to the design team during this time were the feelings they were looking to capture. "We went through the whole sword and shield and what a Spartan would actually be like," said Wen. "It was very historical, but that's not what we were going for."
Wen continued: "There was a lot of freedom in coming up with Kratos, in that I knew with Dave [Jaffe], he just really — he kept just saying, 'It needs to evoke a certain kind of emotion.'"
Obviously once gamers got their hands on the final product, there was no shortage of emotion: grief over the loss of the lead character's family, and rage at the gods that leads to the action that unfolds.
A wolf, a cub, and a demon puppy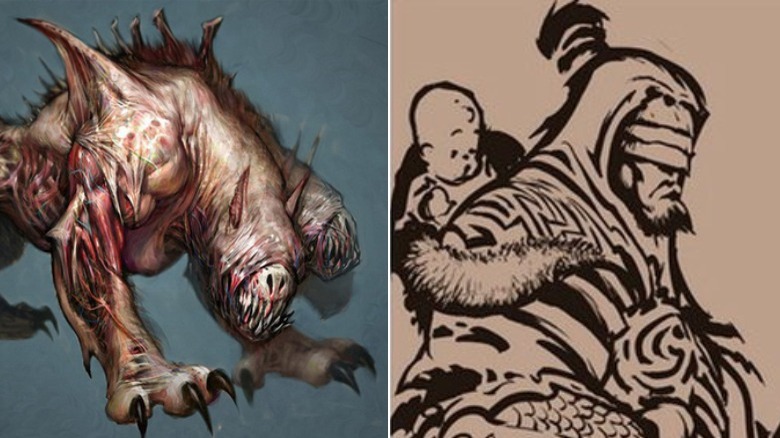 Charlie Wen
Wen recalled having plenty of leeway in exploring what kind of character Dominus might be. For instance, Wen was influenced the Lone Wolf and Cub manga series from the 1970s, which sees a samurai traveling with his infant son through feudal Japan, slaying bad guys together. Because of the strong presence of family in Dominus' backstory, Wen saw an interesting gameplay opportunity in a similar dynamic.
"I remember [thinking], 'You know what? Dominus should have — maybe we can have it so he has this cub, actual puppy, behind him.'"
Funnily enough, before Wen decided on a puppy as Dominus' adventuring companion, he experimented with a character not unlike Atreus, the son who accompanies Kratos in the 2018 God of War game for the PlayStation 4: "At first, I was trying an actual kid, but that was gonna be hard, and I don't want people thinking that you're killing a little kid that's behind you, if you get him killed," Wen laughed. "So I was like, 'Nah, I don't wanna be responsible for that. Let's try a puppy.' I was thinking, 'The puppy can turn into a giant Cerberus that can help you — a three-headed Cerberus if you treat it well.' So you can have a nice dynamic between you and that puppy."
While the player's puppy pal never made it to the final version of the game, the Cerberus did — although as a pesky enemy type across several games in the franchise.
Burgers of Chaos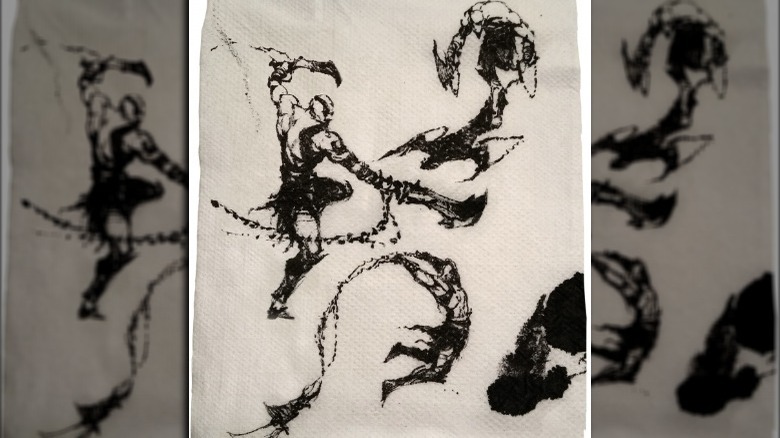 Charlie Wen
Sometimes inspiration strikes quickly. And sometimes it never strikes at all. And sometimes, it strikes when you least expect it: like when you're getting a bite to eat. That's exactly what happened to Charlie Wen while he was literally out to lunch.
"Eventually, after many months of just testing things out, I think I was eating at a fast food restaurant — at Carl's Jr. or something like that — and there was some napkins there, and I was like, 'You know what? I think I know who he is,'" said Wen.
Fortunately he had a brush pen with him. He grabbed a napkin and set to work on the idea that suddenly flashed into his mind. What we got is more or less the Kratos we know today — along with a very iconic part of his character that stuck with him through almost every appearance throughout the God of War franchise: the Blades of Chaos.
"That's the first time I put him with the double swinging blades," said Wen. "So that's how he came about."
Just imagine: what if Wen had wound up someplace else, like Ruby Tuesdays? Really, anyplace that had cloth napkins could have inadvertently created an alternate universe where Kratos never got the Blades of Chaos at all. And that's a universe we wouldn't ever want to visit.
The Drax connection
Wen didn't spend his entire career working on video games starring mythological rage-monsters. A few years after God of War debuted in 2005, Wen became the head of visual development at Marvel Studios, where he helped design the cinematic versions of everyone's favorite Marvel superheroes and villains. Ironically, however, years before he got that job, he may have inadvertently designed one of the characters he would eventually wind up adapting for the big screen.
In 2005, Marvel Comics debuted a new design for one of its cosmic characters, Drax the Destroyer. Gone was the purple cape and cowl he wore in his 1973 debut, replaced by red swirling tattoos that, to Wen and his team at Sony Santa Monica, looked a little familiar ...
"When I was working on God of War back in the day, somebody had sent me, or sent Sony, a Drax comic book," said Wen, who recalled seeing the similarities between the two designs immediately. "I remember at Sony, we were like, 'Oh man, what should we do about this? They can't make it look' — it looked so much like Kratos."
Years later, when he was designing the characters for James Gunn's Guardians of the Galaxy film at Marvel Studios, he was reintroduced to Drax. He recalled thinking of the task he had before him: "How am I gonna make this character not look like the character I designed for God of War?" Fortunately, he succeeded, and the rest is Marvel movie history.
You can follow Charlie Wen on Instagram, Twitter, and Facebook.