Fortnite's Marshmello Show Drew A Crowd Of 10 Million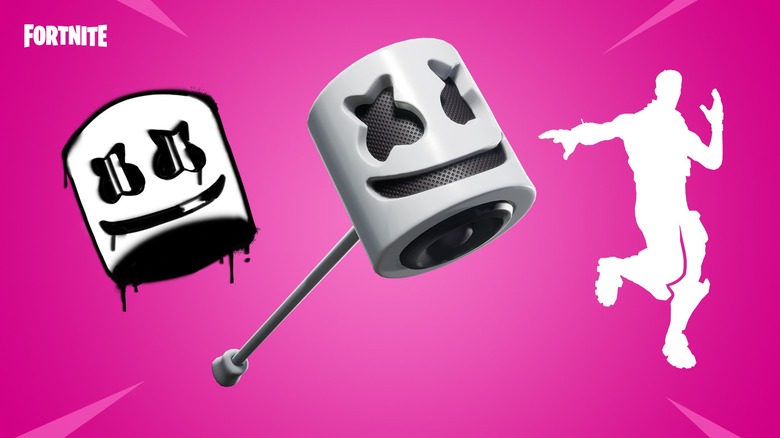 Fortnite's first-ever live concert turned out to be a rousing success. According to Eurogamer, 10 million players — and millions of others via streaming services — watched Marshmello's live set this past Saturday, paving the way for Epic Games to put on similar events of this type in the future.
Advertisement
"We made history today!" the DJ tweeted after the event. "The first ever live virtual concert inside of @fortnite [sic] with millions of people in attendance."
When we first learned of the concert last week, our big question had to do with weapons. Would Epic Games allow everyone to run and gun free, potentially ruining the experience for those who simply wanted to log in and watch? As it turns out, Epic had that base covered. Weapons were completely shut down for the whole length of Marshmello's ten-minute set, giving players an opportunity to enjoy the show in peace.
And many knew exactly what they were showing up for. Prior to the concert, several Marshmello-themed cosmetics — such as a skin, emote, and glider — became available in-game. A new quest also became available, giving players a chance to earn a Marshmello-inspired pickaxe. Many players attending the DJ's set wore the Marshmello skin, paying tribute to the artist they were watching break ground in Fortnite. Marshmello seemed to be in awe at the experience, tweeting, "What makes me happiest about today is that so many people got to experience their first concert ever. All the videos I keep seeing of people laughing and smiling throughout the set are amazing. Man I'm still so pumped."
Advertisement
It seems rather amazing that something like this hasn't been done before — at least not at this scale — but even more amazing that Fortnite was the game to do it. The game has achieved success by keeping things fresh, and more often than not, that means tossing aside the tried-and-true battle royale formula in favor of something different. This was very different. But it was well received, and you can almost count on Fortnite building on this and exploring new ways to keep players logging in.