Overwatch Just Got A Paris Map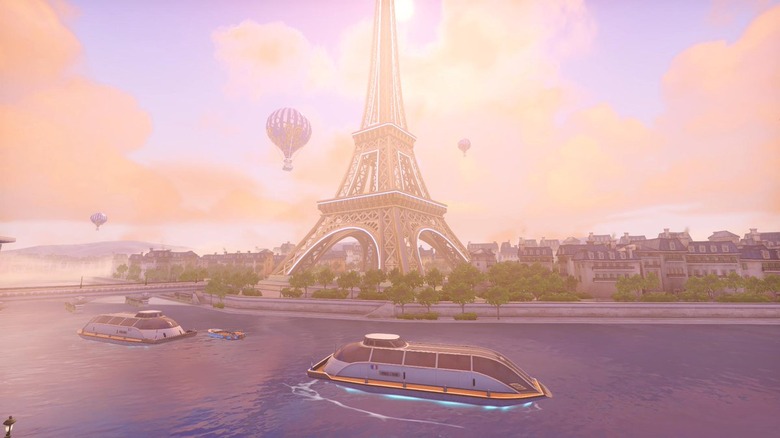 Sure, all the kids are hot on Apex Legends right now. But that doesn't mean other shooters have shrugged their shoulders and shut down. Overwatch, for instance, just added a brand new Paris map. And it has just about everything you'd expect a Paris map to have.
In this new Overwatch location, which is tailor-made for the Assault game mode, you'll find cabarets. You'll see small cafes. You'll discover an upscale shopping district. And yes, you will see the Eiffel Tower, standing tall above the Seine, flanked by a number of hot air balloons. It's not an authentic one-to-one recreation of Paris — that's not always conducive to good gameplay — but Blizzard has captured enough here to do the city justice.
Interestingly enough, the Daily Star got to talk to Blizzard about the development of the map, and just how much work went into getting everything right. For example, Blizzard sent someone to record audio outside of the Louvre for the map's ambient background noise. One designer "spent like a week in Paris in Google Maps" in order to get a feel for the city's layout and how the Paris map might recreate some of it in Overwatch. The result is something that isn't quite the real thing, but still feels true — right down to the inclusion of the Seine.
"Having the river run through was a design decision I wanted in there early," said Michael McInerney, an Overwatch level designer. "We're always representing these small little areas that you can fight in but making the world feel bigger. As a designer we have a few options. It's like I can put a wall up here and say no you can't go here, but since none of the characters in Overwatch can swim, we can put the river there and the map opens up because of that."
The Paris map spent some time on test servers, but it's now available today for everyone on PC, PlayStation 4, and Xbox One.