Reggie Fils-Aime Is Saying Goodbye To Nintendo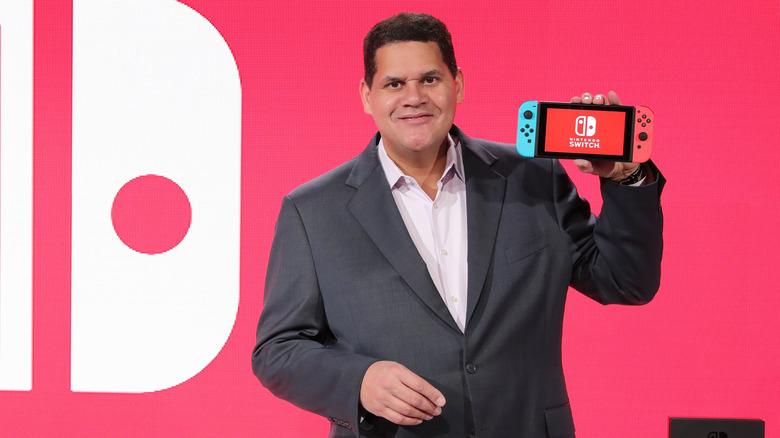 Getty Images
It's been a long, glorious run, but Nintendo of America's Reggie Fils-Aime is ready to take a warp pipe out of here. The 57-year-old Fils-Aime, who's served as Nintendo of America's president since 2006, announced today that he's retiring on April 15 of this year.
And, rather appropriately, he'll be replaced by the company's current senior VP of sales, Douglas Bowser. Yes, someone with the last name Bowser is all but certain to become Nintendo of America's president. You can't make this stuff up.
Fils-Aime has been with Nintendo dating all the way back to late 2003, when he joined the company and assumed the role of senior VP of sales (the job Bowser currently holds). From there, he became a pretty well known figure in the games world, and spent many, many years either teasing and/or cracking fans up at E3. Fils-Aime was present for the heyday of the GameCube, the launch of the Nintendo DS, the launch of the Wii, the launch of the Nintendo 3DS, the launch of the Wii U, the launch of the NES and SNES Classic consoles, and the launch of the Nintendo Switch. Really, there's one system in that long list that can't be called a success.
"Nintendo owns a part of my heart forever," Fils-Aime said in a statement. "It's a part that is filled with gratitude — for the incredibly talented people I've worked with, for the opportunity to represent such a wonderful brand, and most of all, to feel like a member of the world's most positive and enduring gamer community."
Fils-Aime then wrapped up by explaining his motives.
"As I look forward to departing in both good health and good humor, this is not 'game over' for me, but instead 'leveling up' to more time with my wife, family, and friends."
It's certainly sad to think about a Reggie-free Game Awards show next year. They always gave us an opportunity to read way too deeply into whatever pin the man wore. It's hard to argue that Fils-Aime hasn't earned his retirement, though.
We wish you all the best, Reggie. Come back and visit sometime.