Bethesda Details Content Coming To Fallout 76 In 2019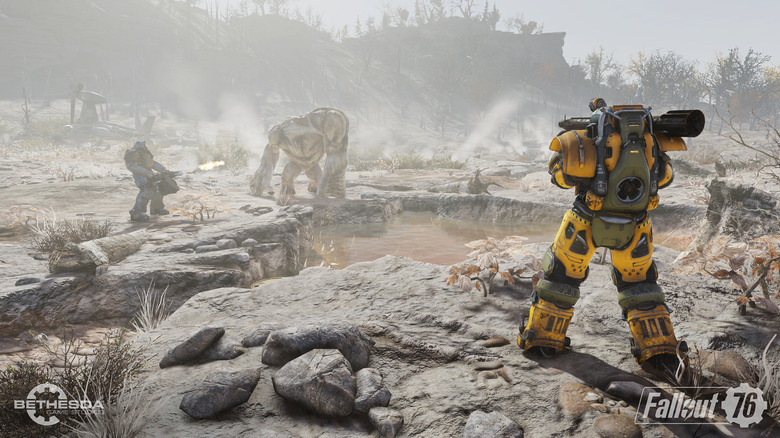 Today is the official launch of Anthem, a live service game that, so far, hasn't reviewed well. That's quite the coincidence, because today also marks 100 days since the release of Fallout 76, another live service game that's lived through a pretty rocky launch. Like BioWare with Anthem, Bethesda is aiming to improve Fallout 76 over time. And like BioWare, Bethesda is sharing its plans via a post-launch roadmap.
"Thanks to your continuous feedback, we have been able to fix many of the top issues and have made numerous improvements to [Fallout 76]," Bethesda wrote in a blog post today. "We also make scores of changes under the hood that aren't as visible. These include changes to improve performance, detect new exploits, and make the experience smoother for everyone. There's still work to do, but we're happy to report the game and server stability has increased over 300% since launch."
That's all great — but aside from the bugs, there have been a lot of complaints from Fallout die-hards about how there isn't a whole lot to do. Players came to Fallout 76 hoping for at least a part of what made their past Fallout experiences so great, but it's felt so far like they've had to create their own fun. Is there more support coming? More content?
According to Bethesda, the studio plans to make Fallout 76 "a platform for endless Fallout adventures for years to come." And the company jumped right into what's coming, showing off a roadmap for the months ahead.
An expansion called Wild Appalachia is set to release content beginning on March 12, adding new quests, new features, a new seasonal event, and a new game mode over several weeks. From there, players can expect to see another content drop called Nuclear Winter, which is more broadly scheduled for Summer 2019. That release will include another new game mode, Vault raids, and "an all-new prestige system [that] will allow players above level 50 to become Legendary, resetting their characters with all new more powerful abilities." Finally, Fall 2019 will bring one more update called Wastelanders. Details are pretty scarce on this one, but Bethesda is at least letting players know that "a new main questline, new factions, new events, new features, and even more surprises" will be in store once the fall rolls around.
Despite Fallout 76's disappointing start, there are still some Fallout faithful logging in and squeezing what they can out of the West Virginia wasteland. It's certainly good news for those players that Bethesda remains committed to this latest chapter in the series. Will all of these content drops and updates be enough to truly fix Fallout 76, though? That's a question that won't start to be answered until Wild Appalachia arrives on March 12.
In the meantime, check out some of the creepiest things you can find in Fallout 76 right now.