Nintendo Announces Pokemon Sword And Pokemon Shield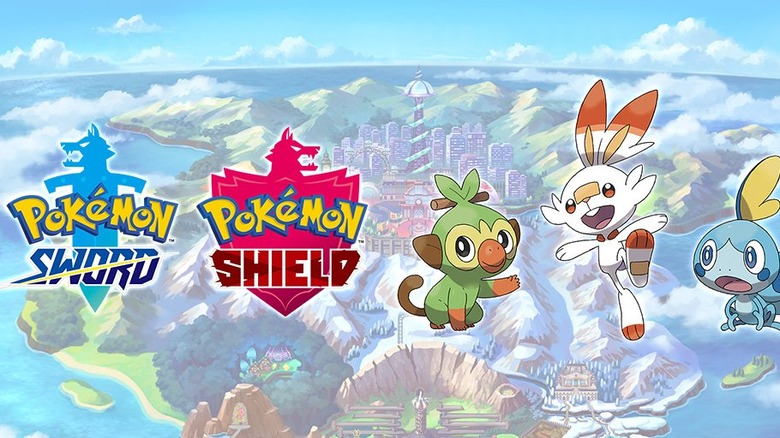 Twitter:@Pokemon
That was certainly a surprise. Nintendo only had six or seven minutes to make a splash with its Direct this morning, and it did, announcing Pokemon Sword and Pokemon Shield for late 2019 releases on the Nintendo Switch... along with three of the starter Pokemon.
Advertisement
While details are still pretty scarce about Sword and Shield, we did get a tiny look at the game, as well as some other bits to chew on while we wait for the remainder of the year to roll by. The pair of games take place in a brand new region called Galar, which features a number of different biomes that will undoubtedly host different types of Pokemon. There are cities. There are wide-open fields. And there are snowy peaks. It certainly has the look of an "expansive region with many different environments," as it was described in the Direct.
On top of that, we also got a short but sweet look at the three starter Pokemon that'll be available to choose from at the start.
Grookey is a Chimp Pokemon that, according to Nintendo, "is full of boundless curiosity." Scorbunny is a Rabbit Pokemon that is "always running about, bursting with energy." And lastly, Sobble is a Water Lizard Pokemon, and is "a bit timid, shooting out attacks as it hides itself in the water." We don't know a whole lot about the specific abilities of these Pokemon, but it seems that Game Freak, the studio behind the game, has at least hit on the design of these creatures. Twitter is already abuzz about all three, with many fans already creating art in tribute of the new starting trio.
Advertisement
And come on — as much as we all love Pikachu, he's been around for over two decades. And more recently, he starred in one half of the Pokemon: Let's Go! games, and reprised his role in Super Smash Bros. Ultimate. Plus, we haven't seen new starter Pokemon since the seventh generation ushered in Rowlet, Litten, and Poppilo back in 2016. It's time for some fresh new faces, and fortunately, we're getting them in Pokemon Sword and Pokemon Shield.
Both Sword and Shield will be the first mainline entries in the franchise since Sun and Moon, and those who've enjoyed the more traditional Pokemon titles in the past have to be pleased to see that these newer titles will stay true to the games of yore. As happy as many were to see a full-fledged Pokemon game come to the Nintendo Switch, Pokemon: Let's Go! strayed from what most have to expect from a Pokemon game, as it remade the older Red and Blue games while also incorporating gameplay elements from Pokemon Go! Some considered — either as a compliment or not — that Let's Go was "baby's first Pokemon game," thanks to its simplified style. If Sword and Shield can get back into the RPG battle system that so many enjoyed in the mainline titles, it'll be on the right track.
Advertisement
Unfortunately, it looks like we're going to be waiting a while. As we stated earlier, Pokemon Sword and Pokemon Shield are scheduled for a release sometime later in 2019. Knowing Nintendo, that could be as late as December, given when Super Smash Bros. Ultimate released in 2018. That's an awful long time to wait for what looks to be a promising new Pokemon game — at least, according to what we've seen so far. We'll almost certainly see more of Pokemon Sword and Pokemon Shield in the coming months, though. And that might not be all we have to look forward to. According to the Direct, there is "plenty in the works for the Pokemon brand" that we'll see somewhere down the line. We just don't know when.
In the meantime, Nintendo has been pulling out all the stops for Pokemon Day, which celebrates the Japanese release of Pokemon Red and Green back in 1996. We got the announcement of Sword and Shield, which certainly came as a shock to many. And a Pokemon Go! live event is still ongoing until Feb. 28 that features Pokemon from the Kanto region. We have an awfully long time to wait until we get to set out on a new adventure with either Grookey, Scorbunny, or Sobble. But after this early look at Pokemon Sword and Pokemon Shield, we can't help but eagerly anticipate the holiday season.
Advertisement