Destiny 2's Season Of The Drifter Gets A Video Preview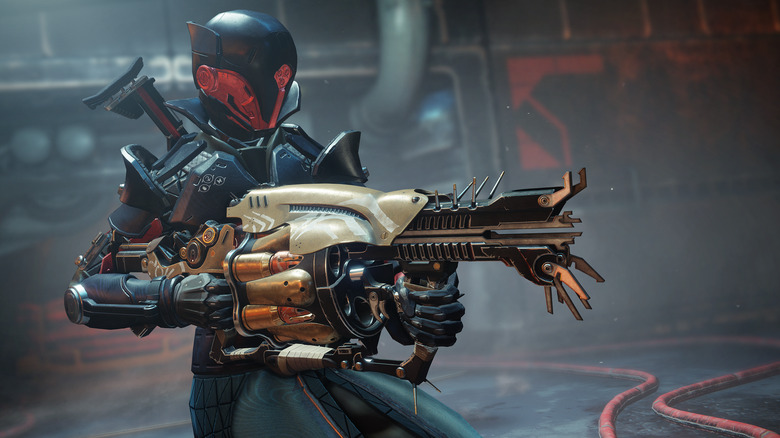 If you're all out of things to do in Destiny 2, good news — the game's Season of the Drifter mini-expansion is just around the bend, and it's close enough that Bungie is now showing it off in a video.
We already know that an upcoming patch is going to make drastic changes to the game's Gambit mode. But Gambit is getting quite the makeover for its overseer's tribute season. To start, there is now a higher-tier Gambit mode called Gambit Prime that will further challenge players and offer new loot. And we'll finally get to go into the Drifter's ball behind his ship, which leads to a new PvE game mode called Reckoning that, for lack of a better word, looks hectic.
On top of that, an old friend to many is returning to the Destiny franchise. Thorn — the powerful, poisonous hand cannon that made the original Destiny's Crucible a nightmare — will become obtainable in Season of the Drifter. We assume that you'll chase the weapon in an Exotic quest, similar to the way the Last Word was brought in, but details are scarce at this point.
And if you've fallen behind in Destiny 2, fear not. Brand new Power Surge bounties will debut in Season of the Drifter, giving you a way to quickly level your way up to 650 power, the cap for the current Season of the Forge. This is a pretty brilliant addition, as it gives lapsed players a way to catch up while not totally negating the work put in by those who've been playing all along.
Otherwise, you can probably guess at what else is coming in Destiny 2's new season. New armor, new weapons, and new cosmetic loot will the the carrot at the end of your Destiny stick. There won't be a raid this time around, so those who love that six-player end game will be a little disappointed. But Reckoning has the looks of an activity that will try to fill that void, and hopefully, it can provide enough entertainment to get players through the next three months.
Oh, and one last thing. Destiny 2 director Luke Smith gave us a low-key spoiler. The next season will be called the Season of Opulence. Just something to think about.
Destiny 2's Season of the Drifter launches on March 5.