No, There Is Not A Game Called Pokemon Gun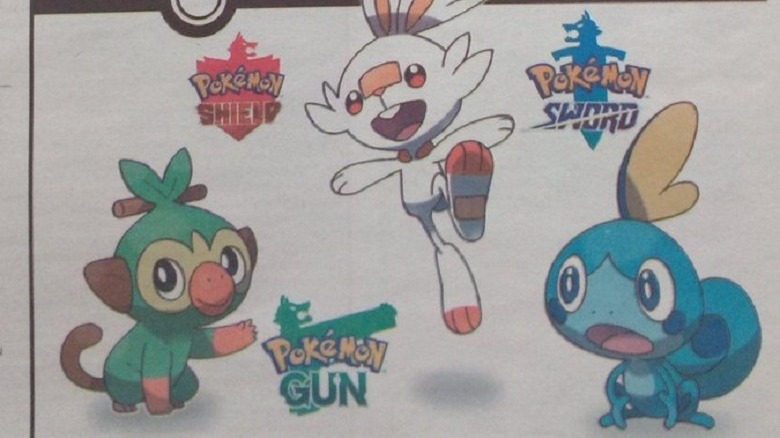 Always do your homework. That's the lesson a Mexican newspaper called La Voz de Michoacán learned after the announcement of Pokemon Sword and Pokemon Shield last week, according to IGN.
The paper published artwork for a third game called Pokemon Gun, surprising many, as that game was not at all announced by Nintendo in last week's Direct. Was it a huge scoop for the newspaper? Did we somehow miss a major announcement? No, it wasn't, and we didn't. It was a rather embarrassing mistake by La Voz de Michoacán. Still, there are undoubtedly some who might have been confused. So let us reiterate: there is no such thing as Pokemon Gun. It's not a real game.
Now, how on earth did this happen?
The error by La Voz de Michoacán appears to have been the result of the paper's Twitter account. La Voz de Michoacán published a story about Pokemon Sword and Pokemon Shield on its website, and whoever was running the Twitter account tweeted out a link to that story along with some artwork by Twitter user @Sir5000. That artwork, hilariously, contained logos for the first (real) two games along with original art for a third called Pokemon Gun.
When it came time to publish the story in print, it seems likely that a page designer lifted the artwork from the paper's tweet, dropping all three logos into the story next to the three starter Pokemon in Sword and Shield. Amazingly, no one made a fuss about the tweet containing the art for the fictional game. But someone did notice it in the paper itself — a Twitter user by the name of Cin Ceja, who tweeted sarcastically, "My local newspaper, always doing research before publishing anything."
For what it's worth, La Voz de Michoacán did publish an apology, which essentially states that printing the fake Pokemon Gun art was an "involuntary error" and the paper is very sorry. But we can't help but dream about what a Pokemon Gun might look like now. Perhaps in a few years we'll actually see it, releasing alongside Pokemon Grenade and Pokemon Taser.
And no, those aren't real games either.