Nintendo Offers Switch, Mario Game Discounts For Mario Day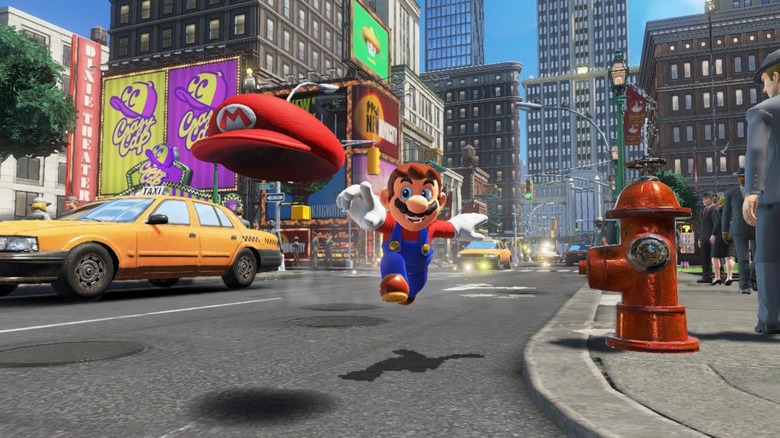 Rare Nintendo discounts are incoming, and it's all thanks to Mario Day. The Nintendo-created holiday takes place on March 10, and according to Twinfinite, you'll be able to save on the Nintendo Switch and several Switch games that bear the iconic plumber's name.
Advertisement
From Sunday, March 10 to Saturday, March 16, those who purchase a new Nintendo Switch from participating retailers will also get a 50% discount on any one of a few Mario titles, including Super Mario Odyssey, Mario Kart 8 Deluxe, Super Mario Party, Mario Tennis Aces, and New Super Mario Bros. U Deluxe. 
And if you already own a Switch? Don't fret — there's something here for you, too. All of the above Switch games will be available — again, through participating retailers — as $39.99 digital download codes that can be purchased and redeemed in the Nintendo eShop. We can't recall many of these games dropping below the $40 mark in the past, so this is a pretty amazing deal for those who've somehow missed out on some of the Switch's best experiences.
Advertisement
"What better way to celebrate Mario Day than by playing some of the most popular Mario games on Nintendo Switch," said Doug Bowser, who is in line to replace Reggie Fils-Aime as Nintendo of America's president next month. "This promotion is a great option for consumers who want to pick up a Nintendo Switch and some hit games at a value price."
There's not a whole lot we can say to knock any of the games Nintendo is discounting. Sure, Mario Tennis Aces had some balancing issues early on. And yes, Super Mario Party is still going to steal victory away from you in the most random and exasperating ways possible — it wouldn't be a Mario Party game if it didn't. But they're still worth checking out, especially at $40. And the other three titles – Super Mario Odyssey, Mario Kart 8 Deluxe, and New Super Mario Bros. U Deluxe — may never reach below this price point again until Nintendo introduces a Switch Selects line in a couple of years.
Translation: jump on these discounts before the sale wraps up on March 16.