Battlefield 5's Firestorm Mode Arrives March 25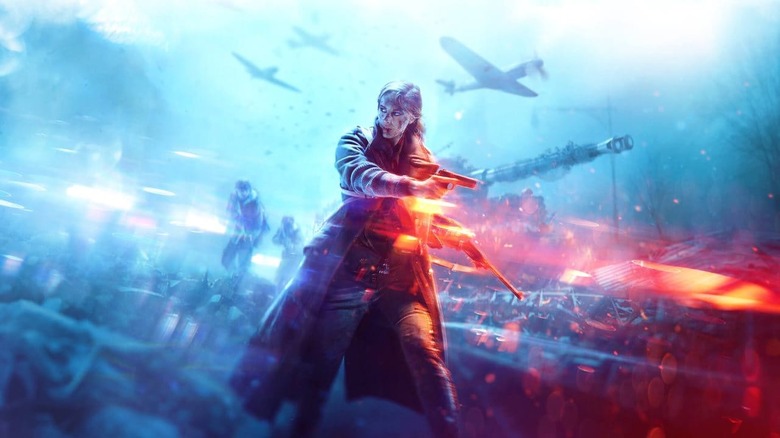 The battle royale genre is about to get a little more crowded. A new trailer for Battlefield 5 has given us a look at the game's Firestorm battle royale mode, and also clued us in on when exactly we'll see it.
Firestorm will drop along with Battlefield 5's Trial By Fire mini-expansion, which is scheduled for March 25 (hat tip GameSpot).
As far as the gameplay found within Firestorm, it appears that the Battlefield 5 take on battle royale will stick to the tried-and-true formula. You'll be able to play a Solo mode against up to 63 other players. There will also be a Duos mode, which will presumably pit 32 teams against one another. And finally, there will be a Squads mode for those who want a larger team that — we assume — will allow for 16 competing groups.
Everything else looks like you'd expect, too. Firestorm utilizes the same shrinking circle concept as other battle royale games, replacing the storm of Fortnite with a, well, fire storm. Matches kick off with players jumping out of a moving airplane, parachuting down to the area of their choice. And everyone will have to scrounge up the weapons and resources they need while trying to stay alive.
Frankly, it's tough to see how a Battlefield 5 spin on the battle royale game type will stand out from everything else on the market. It appears Firestorm will mostly closely resemble Call of Duty: Black Ops 4's Blackout mode, which itself is still having to contend with the likes of PlayerUnknown's Battlegrounds, Fortnite: Battle Royale, and Apex Legends. 
And you're likely well aware by now about how Apex Legends is faring. A lot of people remarked at the time of that game's release that it would end up hurting Firestorm, and now that we're over a month out from the Apex Legends launch and the game is still soaring, we're struggling to see where Firestorm fits into the equation. EA already has itself a winner in the battle royale department, and we'd be simply shocked if Firestorm suddenly came along and altered the landscape in any way.
It won't be long until we have a definitive answer. Firestorm arrives inside Battlefield 5 on March 25.