Gearbox Drops A Borderlands 2 Tease Ahead Of PAX East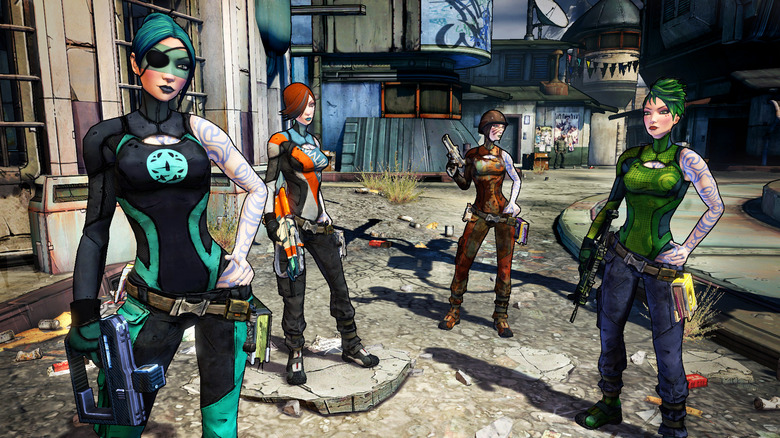 We're already pretty darn sure that Gearbox plans to announce Borderlands 3 at the upcoming PAX East conference. Now a tweet from Gearbox is hinting that something related to Borderlands 2 could show up, as well.
The tweet spawned about a number of jokes about the announcement, and Gearbox cheekily replied to many with animated GIFs. But a Twitter user named Zorklis seems to have correctly identified that the image Gearbox shared is a screen shot from Borderlands 2, and that specific tweet is one Gearbox has chosen not to touch.
Assuming Zorklis is right — which looks likely — what could a Borderlands 2 announcement possibly be? The game is already on every platform imaginable. Actually, Zorklis had a guess for that, too — that the image could mean Borderlands 2 is coming to the Nintendo Switch. Consider us intrigued.
We'll have to cross our fingers that Borderlands 2, if it does indeed come to the Nintendo Switch, arrives a whole lot better than the last portable version of the game. You might remember that Borderlands 2 made its way to the PlayStation Vita way back in 2012, and was roundly panned as a really bad port of an otherwise solid title.
If Gearbox simply moves the Vita version over to Switch, players are going to be sorely disappointed. IGN noted that "its compromised visuals rob it of much of its bombastic charm, while its erratic performance and unreliable touch controls keep the gameplay from shining like it has in the past." If Gearbox has been working to offer a better experience on Switch — a console that itself has been getting some less-than-stellar ports lately — then a new version of Borderlands 2 might actually be worth a look in 2019.
We'll find out in just a few weeks if Nintendo Switch owners are getting a Borderlands game. PAX East kicks off on March 28.