Shadow Of The Tomb Raider Adds Yet Another DLC, The Grand Caiman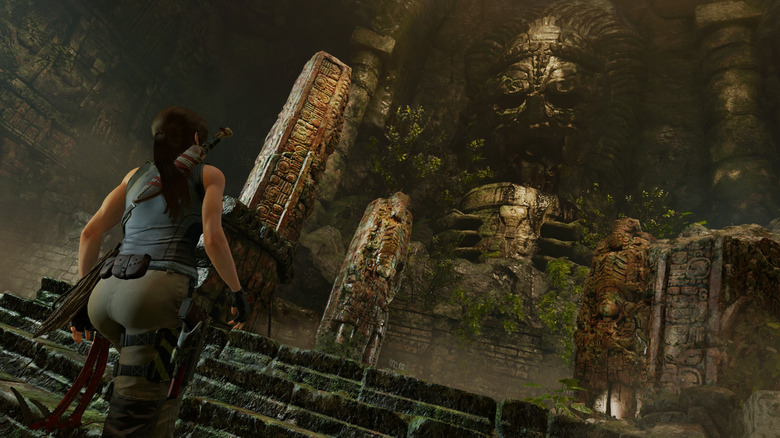 Shadow of the Tomb Raider has been steadily chugging along, adding new content on a monthly basis since last November. Now the game has a new challenge for its players: The Grand Caiman, releasing today on PC, PlayStation 4, and Xbox One.
In a press release, Square Enix described what players will be facing in The Grand Caiman.
"In Shadow of the Tomb Raider's new DLC, a ferocious deity threatens the lives of innocent San Juan villagers. To save them, Lara will battle a deadly group of mercenaries in order to prevent a cataclysmic disaster. Solve the new volcanic challenge tomb and reap its powerful rewards."
Along with new story content and a new challenge tomb to conquer, Shadow of the Tomb Raider fans will also have the opportunity to pick up a new Reptile Hide outfit, built to decrease damage from projectiles; a suppressed shotgun called the Whispering Scourge; and a new skill called Volcano that assists in the crafting of incendiary shotgun ammo.
By our count, Shadow of the Tomb Raider has one more DLC to go following The Grand Caiman. And it appears the game is back on track with its initial roadmap. The Shadow season pass initially kicked off a month late, starting in November of last year instead of October as originally planned. But The Grand Caiman is actually the second DLC release for March, as The Serpent's Heart dropped on March 5.
Chances are, we'll see Shadow of the Tomb Raider's not-yet-named final DLC sometime next month.
And what a ride it's been, by the way. We'll die on the "Shadow of the Tomb Raider is terribly underrated" hill, no problem, but the season pass actually deserves a lot of credit, too. When all is said and done, Square Enix will have delivered seven DLC packs following the game's release, each with more story content to consume and more challenge tombs to solve. It might not have helped Shadow in the sales department, but one could argue that the game's season pass has been one of the best any single-player title has ever seen.
Good enough to rope more players in and, hopefully, keep the Tomb Raider franchise alive? We don't know. But we hope so.
The Grand Caiman is available today for Shadow of the Tomb Raider season pass holders. It can also be purchased individually for $4.99.