Ubisoft Is Discontinuing Its Starlink Toys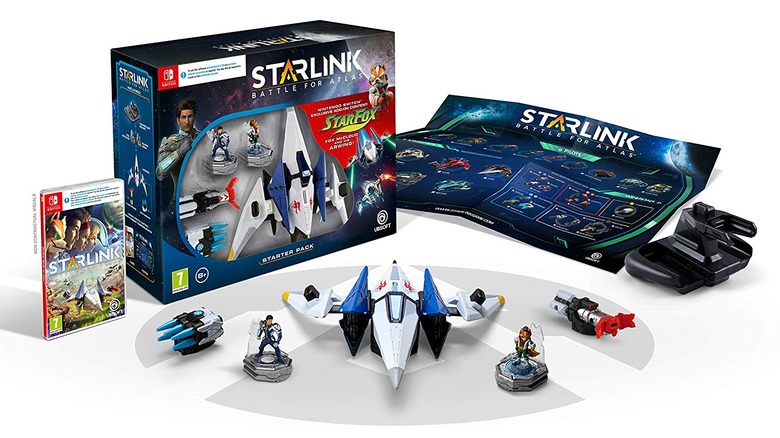 One of the few remaining toys-to-life games is done — at least on the toy side of things. Ubisoft announced today on the Starlink website that the company is done making toys for the series due to unsatisfactory sales figures.
Advertisement
"Despite the immense and continuous support from our players, the sales for Starlink: Battle for Atlas fell below expectations," said the Starlink development team. "Consequently, we recently made the decision not to release any additional physical toys for the Spring update and in the future."
Is that a wrap on the whole franchise, though? The answer appears to be no — for now. The Starlink crew confirmed that more content is still on the way, which should come as good news to fans.
"As part of our effort to do right by our passionate and dedicated community," the team added, "we are currently hard at work on our biggest update to the game so far and are pleased to tell all of you that there will be new digital ships, pilots, and weapons to collect."
Advertisement
Some of you may know Starlink: Battle for Atlas as the closest we've gotten to a modern-day Star Fox game on Switch (or any other console, for that matter). It was a risky proposition — one that launched with a toys-to-life component at a time when other major players in that space (Disney Infinity, Skylanders) had already abandoned ship. We can't say we're entirely surprised that Starlink wasn't a big seller. It was a new IP releasing in an already-crowded fall, and outside of Amiibo, other toys with video game tie-ins haven't shown a penchant for sticking around.
Still, we hope Starlink itself lives on. Our mention of Star Fox was not by accident — the fact is, we don't have many games that fit the mold of a Star Fox-like space shooter anymore. Nintendo doesn't seem like it's in a big rush to resurrect the franchise, and outside of Ubisoft, which at least showed it has a competency in that department, we're having a hard time naming a developer who could do the genre justice.
In the meantime, it still appears that you can pick up Starlink toys from some major retailers, including the Starter Pack, the Neptune Starship Pack, the Nadir Starship Pack, the Shockwave Weapon Pack, and more.  We are, of course, partial to the Switch Starter Pack featuring the Star Fox Arwing, so if you're a Star Fox fanatic and you want a neat little toy for your desk, that might be something worth tracking down.
Advertisement
Starlink: Battle for Atlas' next update is scheduled to arrive sometime this month.