New Teaser Warns 'Ruin Is Coming' To Fortnite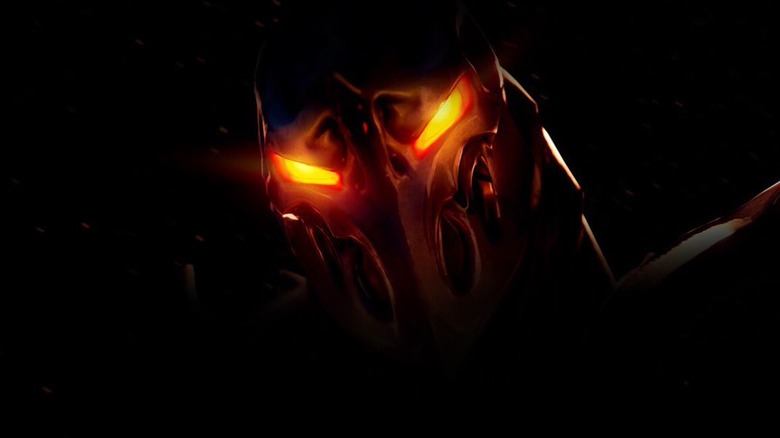 Minutes before Week 6 challenges went live, Fortnite surprised fans with a new teaser on Twitter. The cryptic image depicts an armored humanoid shrouded in darkness, the shadows broken by the glow of its orange eyes. The caption "Ruin is coming ..." accompanied the figure, an ominous warning of what awaits players in Season 8.
Whether "Ruin" refers to the creature's name or predicts an impending catastrophe is unclear. Whispers of a volcanic eruption have circulated since the season began, with the recent discovery of a lava-filled excavation site adding flames to the apocalyptic fire.
Volcano aside, "Ruin" may tease a new Discovery skin, unlockable by players after completing the season's 55 weekly challenges. A tweet by @iScenario sharing a datamined Demon Skull pickaxe supports this idea. Of Epic Rarity, the pickaxe and Ruin promo share a similar aesthetic. Based on its menacing visage, it's easy to imagine "Ruin" as some kind of demon lord and, with two weeks to go before the Discovery skin becomes available, this could be Epic's way of getting the hype train moving.
Along a similar vein, the teaser could point towards the arrival of a map-wide PvE boss fight. This would fulfill the wishes of the many players clamoring for a "world boss," a villain the entire Fortnite community would have to band together to defeat. Fortnite is no stranger to cross-server events, such as the iceberg that showed up last season. We could see the next stage in the evolution of that concept.
With so few details, it's difficult to make any definitive predictions. By experimenting with the image, some players have found that the creature's helmet appears partially melted. Based on this, it may depict the rumored Fire King, believed to be the prisoner of Season 7's Ice King. Now that would be an epic match-up.