Overwatch Teases New Storm Rising Event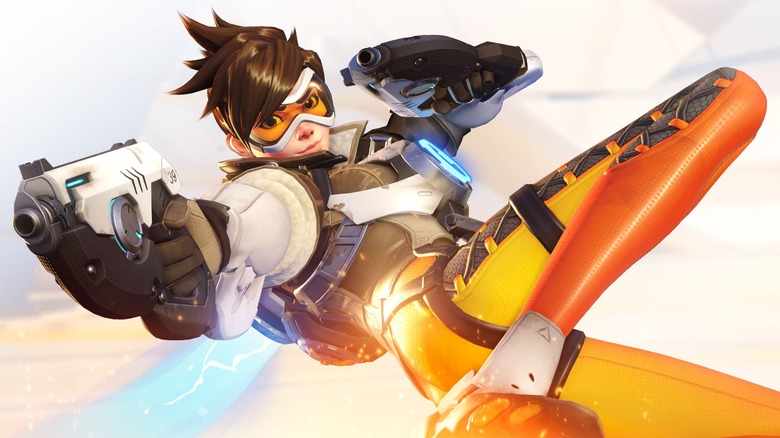 Starting the week off strong, Blizzard released an official teaser for Storm Rising, the next installment in their Overwatch Archives series. The announcement came in the form of a tweet Monday morning which included the caption: "> Accessing archived file ... Decryption status: IN PROGRESS. Target: Located." The accompanying video expands on the story of the Overwatch team and their continued struggle against Doomfist. Rather than going after Doomfist directly, the audio clip suggests "following the money" to his accountant, Maximilien. 
Like previous Overwatch Archives events, Storm Rising appears to be a lore-centered journey back in time. During the event, players will embark on a special mission as hand-picked members of the Overwatch cast. Based on the video, Tracer will take charge of the strike team, supported by Mercy, Winston, and Genji. Sojourn, a mysterious new character, delivers this information to Strike-Commander Morrison via a recording. She pointedly excludes Reinhardt from the lineup due to what took place during the Uprising event in 2017.
An official post made on Sunday hints at the setting of Storm Rising. Highlighting an in-game document, the post features a transcription of The Havana Sun, a Havana-based newspaper, copyright 2060. A headline reading "Cuba Braces for Hurricane Ferdinand" details the appearance of a Category 3 storm on its way to the Havana coast. The article predicts that the hurricane will cause massive damage and flooding in the area. It seems players may have to contend with a literal storm during the special event.
Storm Rising will run from April 16-May 6, occupying a similar time slot to its predecessors. Both Retribution and Uprising involved unique PvE game modes, loot boxes, and exclusive content. Retribution saw players battling Talon in the streets of Venice while Uprising sent the team to liberate King's Row from occupation by rogue omnics. Blizzard appears to be setting up for a similar experience this spring.