The Witcher's Geralt Joins Monster Hunter: World In May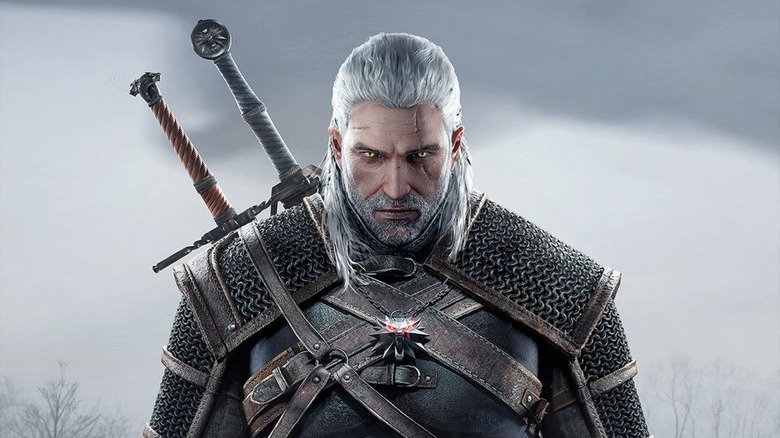 Geralt of Rivia is no stranger to slaying beasts, which makes the event he'll be part of in Monster Hunter: World such a perfect fit. Now we know when that event will be happening.
According to PC Gamer, the crossover between The Witcher 3: Wild Hunt and Monster Hunter: World will kick off on May 9. Capcom uploaded a video showing off a bit of what the event has in store, and also described it briefly in that video's description.
"Step into the shoes of Geralt of Rivia and leverage his expert monster hunting skills as you take on a unique quest line in Monster Hunter: World," the description says.
In terms of what you'll be hunting, it appears your target in the crossover will be a Leshen from the world of The Witcher 3. And that's not all. A second part of the event unlocks on May 17, and that will ask you to track down and handle an Ancient Leshen. How? The way you do if you're Geralt of Rivia — with a big freakin' sword. Completing the first half will grant you the ability to craft a special armor set for Geralt. And you'll also be able to craft Geralt's Silver Sword, which you'll undoubtedly need for that Ancient Leshen later on.
Yeah, this looks and sounds pretty cool.
Capcom states that Geralt's voice actor from The Witcher 3 will be contributing to the project, so rest assured, you'll be hearing the same voice you heard in CD Projekt Red's classic. And you'll be able to take part in the event even if you haven't leveled yourself up like crazy. The entry point is Hunter Rank 16, which is a tad bit past Monster Hunter: World's main campaign. That's more than doable if you start now, and no problem whatsoever if you jump in with a few higher-leveled friends.
Don't worry if you can't get to it right away, though — the event will stick around indefinitely.
Monster Hunter: World's crossover event with The Witcher 3: Wild Hunt will be part of a free title update to the game that is scheduled to arrive on Thursday, May 9.