Red Dead Online Beta Adds New Plunder Showdown Mode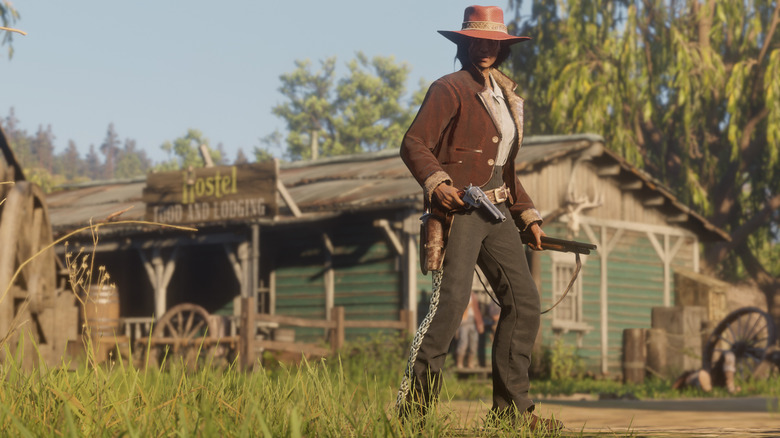 The latest update for Red Dead Online, the online multiplayer component of Red Dead Redemption 2, has gone live. Though the update contains new content, Red Dead Online remains in its beta stage.
Plunder, a new Showdown Mode, headlines the April 9 update. In Plunder, teams face off to secure supplies for their bases from a key location. Cunning players can even infiltrate an enemy team's base, stealing loot right from under their noses. These runs are not for the faint of heart, however, as holding supplies makes the subject visible to all other players. Even the best outlaws should have backup, an escape plan, and maybe a tonic or two to give them an edge.
Rockstar has rolled out a new shipment of clothing alongside the Plunder Showdown Mode. Players can now purchase the Owanjila Hat, Porter Jacket, and Concho Pants from outfitters across the five states. As a bonus, players can grab all coats, holsters, boots, and gloves up to Rank 40 until April 15, no matter their in-game rank. The Turkoman, Missouri Fox Trotter, and Arabian Horses are now Rank 40, and Volatile Dynamite, Incendiary Buckshot, Explosive Slug, Express Explosive, and Dynamite Arrow pamphlets have been lowered to Rank 60.
The game has seen the addition of a variety of new content over the previous months. Plunder follows last week's Up In Smoke Showdown Mode. In Up In Smoke, players compete to deliver explosive packages to the opposing team's base, detonating a piece of their camp with each successful delivery. Weekly additions to the Wheeler, Rawson and Co. Catalogue, an in-game record of Red Dead's available items, continue to roll out.
Red Dead Online launched in beta in November 2018, about a month after the release of Red Dead Redemption 2. In January, Rockstar shared an update stating Online would stay in beta for a few more months. Though April has arrived, the official launch remains out of sight.