New Fortnite Buccaneer's Bounty Event Offers Six Days Of Pirate-Themed Fun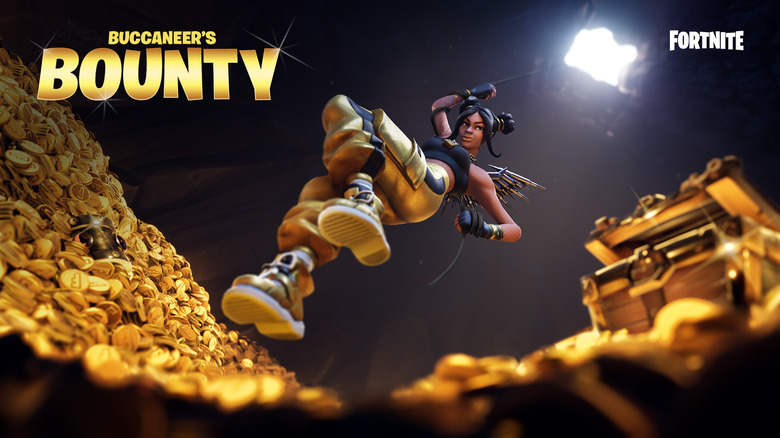 Fortnite just released Patch v8.30, surprising players with the pirate-themed special event Buccaneer's Bounty. From April 10-15, the game will feature a new limited-time mode each day. 
The event kicks off with Fly Explosives, which "combines the explosive fun of the High Explosives LTM with the Jetpack. Take to the skies and blast everyone else back to the lobby!" Explosive weapons are the only weapons available in Fly Explosives. It is also the only mode in which jetpacks will spawn.
Players can score new booty by completing daily challenges. Though the event spans six days, only four tasks have appeared in the menu. Solving each challenge unlocks a new cosmetic reward and players who complete all four will receive the aptly named Boobytrapped emote. Fortnite has also increased the spawn rate of Treasure Maps, Floor Loot, and Chests during the event.
To complete the day one challenge, you must visit a pirate camp in 10 different matches. Epic will reward your efforts with a Plunder Glider, a piece of the Scallywags set.
Though special events are always welcome, the key feature of the v8.30 update is the Reboot Van. Announced last week, Reboot Vans function like the Respawn Beacons popularized by Fortnite rival Apex Legends. When a squad member dies, you have 90 seconds to pick up their Reboot Card and take it to one of the Reboot Vans positioned at major points throughout the map. 
The patch answers an important question spawned by the April 5 developer video. Rebooted squad members lose their previously collected items, instead returning with one common pistol, 36 Light Ammo, and 100 Wood. While not a complete wash, using the respawn feature leaves players, and their team, vulnerable. Squads will need to keep this in mind when developing their battle strategy.