Massive Sea Of Thieves Anniversary Update Sets Sail On April 30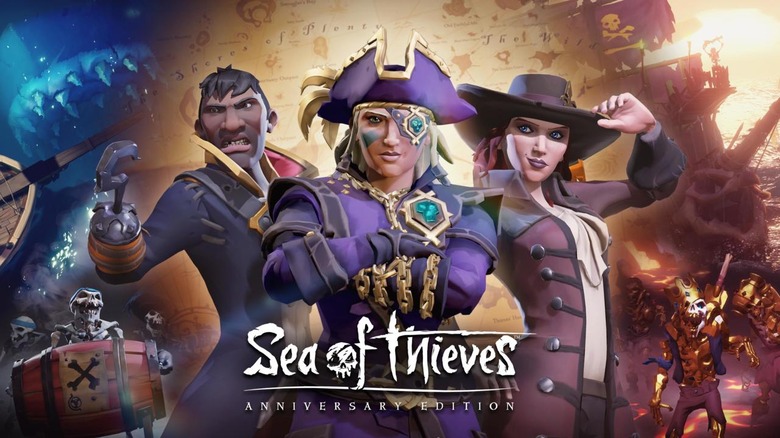 A little over a year ago, Sea of Thieves launched in rough waters, though a stream of updates and events helped stem the tide of criticism. Developer Rare, hoping for smoother sailing in the game's sophomore year, has incorporated much of the feedback it received into the upcoming Anniversary Edition.
Advertisement
Set for release on April 30, the Anniversary Update will include a new competitive mode, an immersive new storyline, and a host of new mechanics and world improvements.
In The Arena, five teams battle against one another to hunt down and deliver treasure to the Sea Dogs, a trading company led by rival twins Lesedi and DeMarco Singh. Crews will need to fight tactically, as cannon fire can now damage their ship's wheel, capstan, and masts. Victories increase the team's reputation and unlock new cosmetic items including weapons, clothing, and ship livery. Between match-ups, players will pass their time in the Sea Dogs Tavern where they can drink and even chat with other challengers.
Tall Tales – Shores of Gold will comprise a series of narrative adventures focused on a cast of existing and brand new characters. The storyline will introduce new locations and gameplay features, including The Hunter's Call, a trading company offering gold and cosmetic rewards for food and prizes. Complementing the trading company is the launch of new fishing, hunting, and cooking mechanics. A highly requested addition, Rare executive producer Joe Neate joked he would remove fishing from the game on April 30 "if you aren't all sitting there reeling them in for hours."
Advertisement
The Sea of Thieves Anniversary Update includes new enemies and traps, which, coupled with the expanded ship damage, will make voyages even more treacherous. The harpoon will also makes it debut, allowing rival crews to make a grab for their enemy's hard-won treasure. Sea battles just got a lot more interesting.