Road To Greatness, A Cross-Country PlayStation Tour, Kicks Off April 19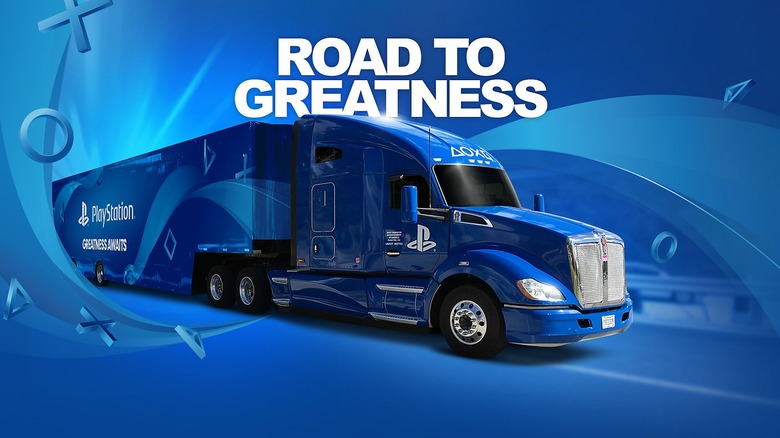 Sony's PlayStation team is hitting the road. The company's official blog this morning announced a traveling tour called Road to Greatness, which plans to crisscross the U.S. with a large truck full of PlayStation's biggest upcoming titles.
According to Sony, "The Hottest PlayStation VR and PlayStation VR games are coming straight to your hometown, with dozens of gaming stations, the chance to experience PlayStation VR for yourself, exclusive PlayStation gear and giveaways and prizes to win."
It's not PSX, but hey, at least the company isn't entirely keeping to itself this year.
Road to Greatness is scheduled to start out at Salt Lake Comic Con on April 19, eventually coming to a close during the college football national championship game in New Orleans on Jan. 13, 2020. To its credit, the tour travels pretty far and wide, hitting some major cities as well as some rather obscure locations. You'll see some shoe-ins, like a whole bunch of California, Seattle, Houston, and Atlanta. But hey — are you headed to the QuickChek NJ Festival of Ballooning in Readington, NJ? Then you'll get a chance to check out Road to Greatness. Are you attending Musikfest in Bethlehem, PA, a city otherwise known for being the home of Hot Tamales and Peeps? Road to Greatness has you covered there, too.
You can check out the full schedule on the PlayStation website, which also has the slate of games you'll be able to play at the tour's start. Days Gone, The Show '19, Fortnite, NBA 2K19, Madden NFL 19, Spelunky 2, and Tetris Effect will be featured at the beginning, with titles presumably being swapped in and out as the year goes on.
One more item of note: this tour, which focuses on PlayStation 4 and PlayStation VR titles, could be a pretty strong signal that we're not getting a PlayStation 5 announcement in 2019. Unless Sony is being a bit sneaky here, it wouldn't make a lot of sense for the company to announce new hardware and then go on a cross-country road trip showing off its old stuff.
We'll keep you updated should any more news about Road to Greatness present itself.