Octopath Traveler Comes To PC On June 7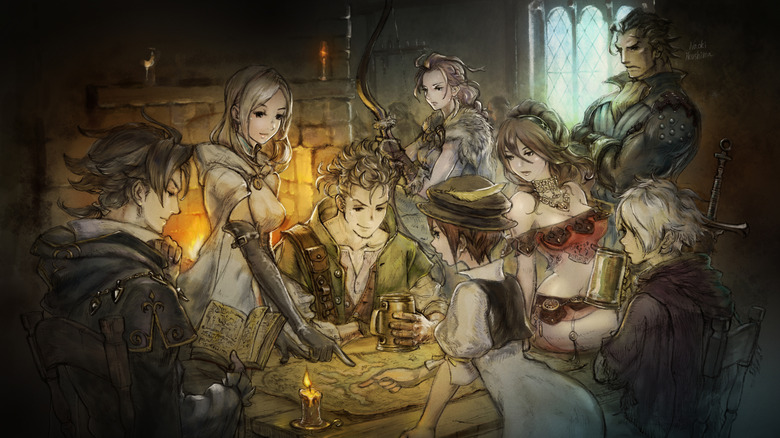 Following a torrent of rumors spawned from a leaked blog post last week, Square Enix announced today that Octopath Traveler is coming to PC this spring. The publisher delivered the news via a new trailer, highlighting the game's story and turn-based combat system. Previously a Nintendo Switch-exclusive, the JRPG hits the Steam store on June 7. Though the listing mentions no enhancements, the game will get the Steam treatment, including achievements and trading cards.
Octopath Traveler is a retro-styled game featuring a mix of 2D and 3D graphics. Set in the magical realm of Orsterra, Octopath, as the name suggests, follows a cast of eight characters as they journey in pursuit of unique goals. Each character has their own profession, abilities and side quests, which unfold across Osterra's eight regions. After progressing through the individual narratives, the heroes' stories intertwine as they band together to fight a risen god.
When Octopath Traveler released on the Nintendo Switch in July 2018, it received generally positive remarks from critics. GameSpot's Peter Brown praised its innovative combat system. "Despite the lackluster stories that pull you through the world," said Brown, "Octopath thrives on its character progression and the temptations of high-level challenges and rewards." The JRPG has won several awards, including Nintendo Game of the Year at the 2018 Golden Joystick Awards.
As of January 2019, Octopath's combined digital and physical sales have exceeded 1.5 million copies worldwide. A mobile prequel titled Octopath Traveler: Conquerors of the Continent will release in Japan later this year on Android and iOS. The game, which takes place several years before the original, introduces three antagonists — Conqueror of Wealth, Conqueror of Power, and Conqueror of Glory — bent on taking over Osterra. Players will step into the role of the One Chosen by the Ring, traveling across the continent to topple these would-be tyrants.