Face The Gods In Assassin's Creed: Odyssey's New Atlantis DLC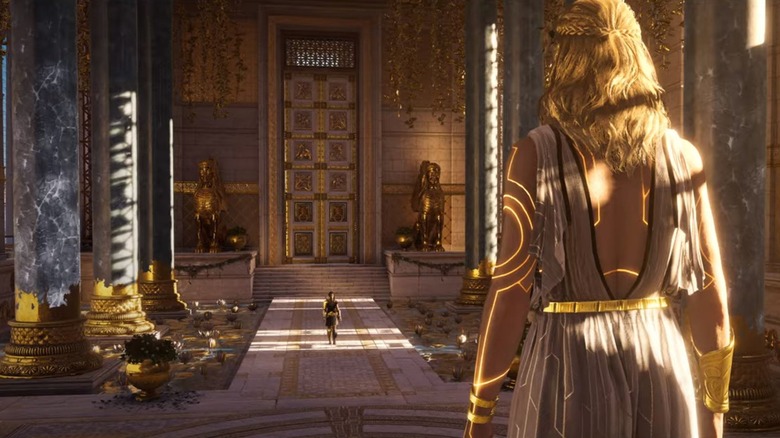 Assassin's Creed: Odyssey unveiled the launch trailer today for its second DLC, The Fate of Atlantis. The expansion, which transports you to the fantastical realms of Greek mythology, makes a dramatic departure from the game's more historically inspired roots. As either Alexios or Kassandra, you'll confront deities and battle terrifying creatures of legend. "What tide has carried you here? Do you wish to become a god? To glimpse worlds beyond worlds?"
Advertisement
The Fate of Atlantis will unfold across three installments, starting with "Fields of Elysium." Episode One, which launches April 23, will send players to the paradise of Elysium, a realm of the Greek afterlife. New factions and familiar characters will appear as you uncover the terrible secrets hidden behind the realm's peaceful facade. Ubisoft has also promised new legendary weapons and gear for you to take advantage of.
According to a press release from Ubisoft, "Fields of Elysium" will introduce new Ability enhancements. These enhancements, divided between the Hunter, Warrior, and Assassin branches, allow you to alter the function of your existing abilities. Each episode will roll out new enhancements, with Ares Bull Charge, Might of Artemis, Kronos Time Warp, and Ares Madness topping the lineup.
Advertisement
Like the previous DLC, only Season Pass holders will have access to the Fate of Atlantis. To play the expansion, you must have reached Character Level 28 and completed the quests "Between Two Worlds" and "Heir of Memories." Players who do not meet these requirements can take advantage of a built-in shortcut, which launches you into "Heir of Memories" with preset Abilities and resources. If you choose this route, your progress will not carry over to the main game. You also won't be able to unlock achievements.
Atlantis' second and third episodes, titled "Torment of Hades" and "Judgment of Atlantis," will arrive in mid-2019, completing the story arc.