Microsoft Unveils The Xbox One S All-Digital Edition, Its First Disc-Free Console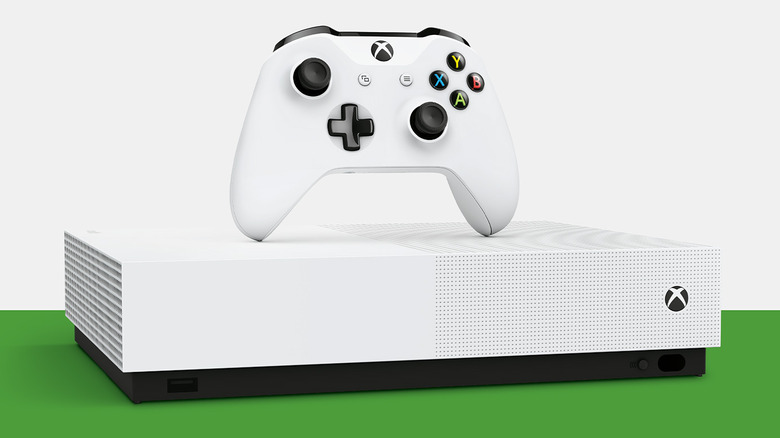 Today, after months of rumors, Microsoft confirmed the upcoming release of a disc-free Xbox One. The new model, called the Xbox One S All-Digital Edition, will launch worldwide on May 7. With a $250 price tag, the S All-Digital Edition is now the cheapest model in the Xbox One family.
Advertisement
"We realize price plays an important role in providing the opportunity to make console gaming more accessible to more gamers around the world. Available for pre-order today at $249.99 USD, the Xbox One S All-Digital Edition is $50 USD less than Xbox One S, and we expect to maintain at least that price difference between the two consoles going forward."
With a 1TB hard drive, the Xbox One S All-Digital Edition will match the technical specifications of the Xbox One S. The console also includes three digital titles — Minecraft, Sea of Thieves, and Forza Horizon 3. 
The new disc-free console was not the only big piece of Xbox-related news Microsoft released today. Hot on the heels of the PlayStation 5 reveal, Xbox announced the date and time for its E3 briefing. The conference, which will be held at the Microsoft Theater in Los Angeles, will take place the Sunday before the main E3 event. Fans can watch the briefing online on June 9 at 1 p.m. PT / 4 p.m. ET via Twitch, YouTube, Twitter, Facebook, or Mixer. 
Advertisement
Rounding off the day of Xbox-flavored wonders, Microsoft confirmed the leaked Xbox Game Pass Ultimate. The new pass combines the Xbox Game Pass and Xbox Live Gold service. Priced at $14.99/month, the new subscription will save subscribers about $5/month. The new offering will not replace either service but serve as an option for players who want a consolidated subscription.
Microsoft has opened the Xbox Game Pass Ultimate up to a limited number of Xbox Insider community members to prepare for its full launch later this year.