Hang With Prince Noctis In The New Final Fantasy 14 Online Crossover Event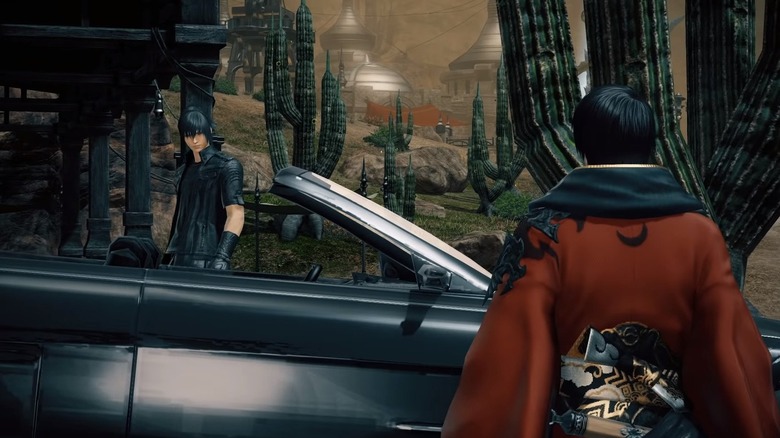 Prince Noctis Lucis Caelum, a Final Fantasy 15 protagonist, is no stranger to crossover events. From Nissin Cup Noodles quests to last year's Assassin's Creed tribute, Noctis has become the king of unlikely brand partnerships. This time, he's wandered into the world of Final Fantasy 14 Online in an event called "A Nocturne for Heroes." If you're over level 50 and have completed "The Ultimate Weapon," you can head to Ul'dah to get started. Kipih Jakkya, who is working on a new article, will send you to investigate a strange man in the desert. You'll find Noctis on the side of the road where his trademark car has broken down. Together, you'll head off on a journey to get him back to his own world and eliminate some baddies who crossed over with him.
"A Nocturne for Heroes" has a lot to offer, including an overworld event featuring giant robots and an epic battle against the wind goddess, Garuda. Though somewhat standard fare for a Final Fantasy questline, the event's biggest draw is Noctis himself. Between the monster slaying and errand running, you enjoy some downtime with the prince. These smaller scenes contain touching moments which, for Final Fantasy 15 fans, will feel like hanging out with an old friend.
Square Enix has filled the event with Final Fantasy 15-themed goodies which you can snag by completing various tasks and objectives. These include a replica of Noctis' car called the Regalia Mount, a Noctis-inspired hairstyle and outfit, the Noctis Lucis Caelum Triple Triad Card, and Orchestration Rolls from the FF15 soundtrack.
"A Nocturne for Heroes" runs until May 27. Players who haven't reached level 50 have a couple options for quickly meeting the requirements to participate. You can use a Tales of Adventure Item to instantly increase one of your jobs to level 60. Alternatively, you can preorder the Final Fantasy 14 Online: Shadowbringers expansion, which comes with an experience-boosting aethertye earring to help you level faster.