Randy Pitchford Thinks Epic Can Help Dethrone Steam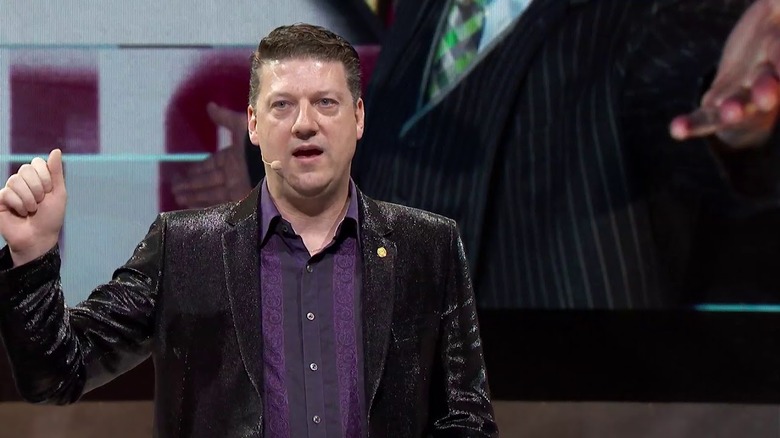 Gearbox's Randy Pitchford is rarely without something to say, and now the studio's CEO is weighing in on the battle between the Epic Games Store and industry stalwart Steam. How is he involved, you ask? Because his studio's latest title, Borderlands 3, is foregoing a Steam launch in favor of an exclusivity period on the Epic Games Store.
Advertisement
Ars Technica is reporting on a Twitter "tweetstorm" posted by Pitchford, in which he talks up the Epic Games Store as a viable alternative to Steam, and speaks of how, one day, he believes Steam will be "a dying store."
To start, Pitchford apparently isn't a fan of the way Steam does business. He complained about the way Steam has used its position to "enrich the handful of people who own and manage the company," pointing out that "They have had no external force sufficient to challenge their revenue share and no external force sufficient to motivate a sufficient reinvestment of revenue."
He believes the Epic Games Store can be the competitor Steam needs. In yet another tweet, Pitchford calls Epic "the only guys who can really come along to disrupt Steam's monopoly and help get this all fixed." He believes Epic will continue to reinvest its profits into the store, helping it grow over time, and ensuring it can "outpace" Steam in terms of technology.
Advertisement
And he buys into the idea of the Epic Games Store as a real game changer — one that will dramatically impact the industry. "At the end of the day when we look back at this moment we'll realize that this was the moment where the digital stores on PC became unmonopolized," he said.
But Pitchford's most controversial remarks might have had to do with the future of Steam. In Pitchford's eyes, "When we look back at Steam in five or ten years, it may look like a dying store and other, competitive stores, will be the place to be."
Before you compose your letter to the editor, that comma placement is all Pitchford's.
It's been interesting to see Randy Pitchford defend Borderlands 3 as a launch exclusive on the Epic Games Store, and to learn he has a far more thought-out position on the topic. There is likely a lot of money changing hands in order to keep Borderlands 3 on Epic's store exclusively for that limited amount of time. But whatever you think about Pitchford, he's also not afraid to make noise. It's not outrageous to think that 2K and Gearbox want to strike a little fear into the heart of Steam, following so many other large games that have done deals with Epic recently. If Steam relents and gives game companies more revenue, studios like Gearbox ultimately stand to increase their profits over time — along with every other developer that sells on Steam.
Advertisement
If Steam doesn't play ball? It could end up exactly as Pitchford said: dying.