Street Fighter 5 Takes On Mortal Kombat 11 With Free Two-Week Trial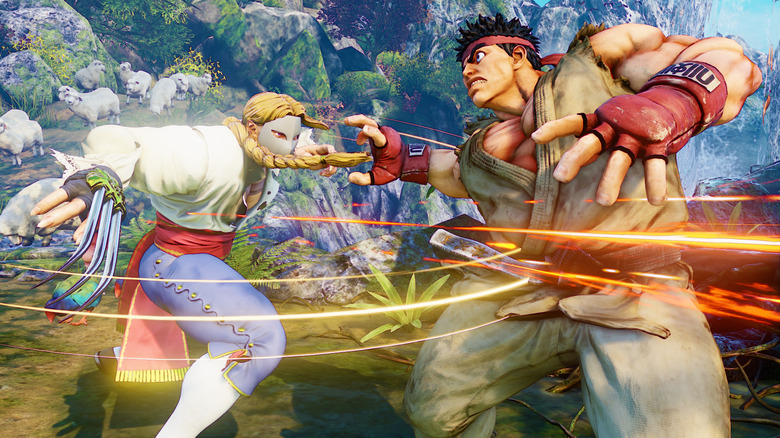 Mortal Kombat 11 is coming out tomorrow, but Capcom would really, really like it if you didn't pay any attention to that. Instead, the company is hoping you'll play some Street Fighter 5. And to entice you, Capcom is making access to the game free for the next two weeks.
According to USgamer, Street Fighter 5: Arcade Edition will get a free trial period starting tomorrow, April 23. That trial will include the entirety of the base game's roster, as well as several of SF5's downloadable characters, including Akuma, Blanka, Juri, and Menat. You'll have two weeks to get a taste of what Street Fighter 5 has to offer before the trial ultimately wraps up on May 5. And if you're on PC or PlayStation 4, you'll also gain access to some discounted costume packs, giving you the ability to dress up some of your favorite characters in new and interesting ways.
If you're on Xbox One or Nintendo Switch, however, none of this will mean anything to you. Street Fighter 5 is exclusive to PS4 and Steam, so you can't play it on any of those other platforms. Insert long, drawn out sighs here.
It seems pretty clear that Mortal Kombat 11 is Capcom's target, considering the start date of this trial. There's been a solid four or five months of hype surrounding MK11, starting from the Game Awards running all the way to present day. Not a lot of other fighters have gotten anywhere near as much press, save for Super Smash Bros. Ultimate, which exists on the Nintendo Switch only. So it'll be very interesting to see if the free Street Fighter 5 trial can generate some buzz about Capcom's title, which originally released back in February 2016.
As for Mortal Kombat 11? It appears the review embargo is already up for that one, and things appear to be shaping up pretty well so far. IGN scored it a 9 out of 10, stating that "Mortal Kombat 11 is the best game in the 27-year-old series thanks to deep, methodical new mechanics and fun story." And GameSpot found it worthy of an 8 out of 10, remarking that "The unfulfilling approaches to the game's dynamic single-player content and progression may feel like they've totally whiffed (at least at this early stage), but Mortal Kombat 11 hits where it matters."
Mortal Kombat 11 releases tomorrow on Tuesday, April 23. The Street Fighter 5: Arcade trial period kicks off on that same day at 1 p.m. ET, wrapping up on May 5 at 1 p.m. ET.