Anthem Update Adds The Sunken Stronghold, Other Improvements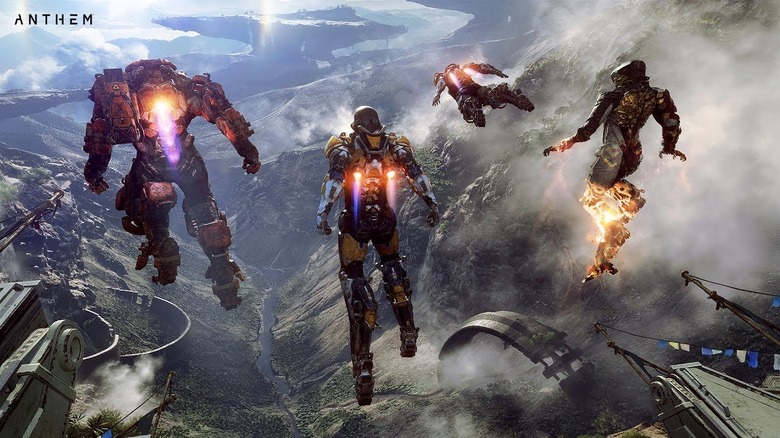 Anthem is about to get a little bit better, thanks to an update coming to the game later today. According to PC Gamer, update 1.1.0 is set to bring new content to the game, as well as what BioWare is calling "various other game improvements and fixes."
The big star of this update is a stronghold called The Sunken. In Anthem parlance, a stronghold is essentially a raid activity that asks multiple players to link up and defeat challenging enemies. Anthem shipped with three such encounters, and since that was all the way back on Feb. 22, players have been itching for a new stronghold for several weeks now. Those who've stuck with the game will undoubtedly be pleased — though there's some bad news brewing, too.
Sometime today, BioWare also plans to "give an update on the 90-Day calendar," according to an official Reddit post. That refers to a roadmap of upcoming events and features, many of which were scheduled for April and have yet to be addressed. Odds are, that means delays are coming to some of the content bits players were looking forward to, and the timing couldn't be worse.
As far as the rest of the update goes, we're not quite sure what else BioWare will touch with it. The studio plans to release patch notes for the update after a planned maintenance period, which is underway as we're writing this and wraps up at 1 p.m. ET.
One last item of note. There appear to be several reports of the upcoming stronghold being called "The Sunken Cell." We're honestly not sure where the "Cell" came from in that. The Anthem website lists the stronghold as simply "The Sunken," and we've not seen it called anything else by the Anthem team.
We'll keep you up to date should any other important news come out of Anthem's 1.1.0 update.