Shadow Of The Tomb Raider Releases Its Last DLC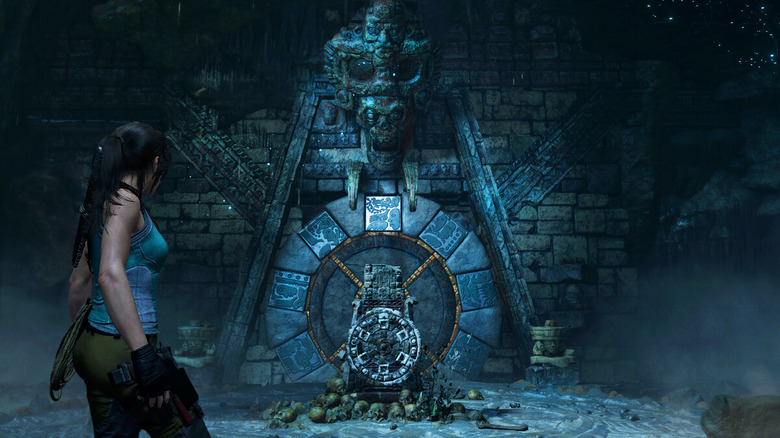 It's been a long and winding road, but Shadow of the Tomb Raider's long-running season pass is finally drawing to a close. It seems fitting, then, that the game's final DLC release is called The Path Home.
According to Square Enix, The Path Home requires Lara to locate her missing friends, creeping her way through tunnels and caverns built long ago in order to do so. And because this is Tomb Raider, Ms. Croft is definitely going to stumble upon one last challenge tomb along the way. Because friends are important, but so is raiding tombs.
Along with the game's final story mission and challenge tomb, Shadow of the Tomb Raider will get a Midnight Sentinel outfit for Lara, which bolsters her focus and perception abilities. And Lara will also get her hands on a rather useful-sounding Silver Strike bow, which enables her to fire arrows that go right through body armor or can enter and exit multiple enemies in a row. If Shadow's armored bad guys are the bane of your existence, this bow is going to find work in your arsenal very quickly.
On top of all that, a new Magic Touch ability is being added to Shadow of the Tomb Raider. This helps Lara craft supplies and use fewer resources while doing so, which we can definitely see this being a boon if you're having a tough go during a particular mission. Oh, and one last thing! Now that Shadow of the Tomb Raider's season pass is complete, Score Attack and Time Attack modes are now unlocked for all of the base game's tombs.
You can pretty much trip, fall over and land in a place where Shadow of the Tomb Raider is on sale these days, so if you haven't purchased the game yet, it might not be a bad idea to wait. And if you're lucky enough to be an Xbox Game Pass subscriber, you actually have access to Shadow already thanks to that service. That means all you'll have to pay for is the Season Pass, which costs $30 normally but, like the game, goes on sale quite often.
It's been a fun ride, Shadow of the Tomb Raider. Thanks for showing all those other single player games how to do a season pass. We'll be crossing our fingers that we see more of you in the future.
Shadow of the Tomb Raider released on Sept. 14, 2018 for PC, PlayStation 4, and Xbox One.